How old is my pottery?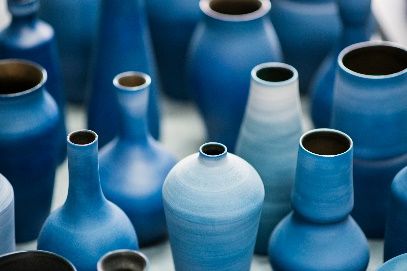 For those who love collecting pottery, one of the most puzzling questions is: When was it made? Here are some telltale signs that can help you narrow it down, and some tips to keep in mind while shopping.
Numbers on the bottom refer to the mold, shape and product line. Some makers used two numbers and some makers used four. For vintage and antique pottery, the numbers are not related to the date made.
"USA" means it was made in America. The McKinley Tariff Act of 1891 required the names of countries where the good was made to be printed on the product. The earliest USA mark on pottery was observed in 1935. The most prolific users of "USA" were Shawnee and McCoy.
Some makers - like Shawnee, which operated out of Ohio from 1937 to 1961 - sold to drug store chains like Sears and Woolworth, who used the pottery as premium items. You could receive a cute planter with the purchase of laundry soap! (The A & P grocery store chain gave away dinnerware pieces with a purchase!) The pieces used as premium items for drug store chains are likely marked USA with no maker name.
Look at the bottom of the piece. American made pieces are generally heavier on the bottom than pieces made in other countries. The clay color helps narrow where it was made. Yellow clay comes from Ohio - Roseville, McCoy and Brush all used yellow clay. Georgia, Alabama, North and South Carolina makers used red clay. Some pottery from Mexico and Italy are also made with red clay. California pottery will have a pink tint to the clay, while Shawnee and Hull are usually cream clay with a slight pink tint.
Is the bottom glazed or unglazed? Are there small holes? The small holes are created by stilts or firing pins used to hold the piece in place when the entire piece is glazed. Glazed over bottom with 3 stilts may be Haeger or Royal Hager, a very valuable pottery brand.
In the early 20th century, the glaze was shiny. By 1915, pottery makers began using a matt glaze. Then in the 1930s to the 1960s, a shiny glaze was back in favor. Collectors tend to prefer a matt glaze. 
Some other clues for terms used on pottery made for kitchen use:
"Oven proof" was used on pottery after 1933
"Detergent proof" after 1944
"Dishwasher proof" after 1955
"Microwave safe" after 1970
Antique and vintage ceramics can lend romance, novelty, or whimsy to your home decor. Buy what you love and make your home uniquely you.
Should I paint or restore my Aunt Susie's secretary?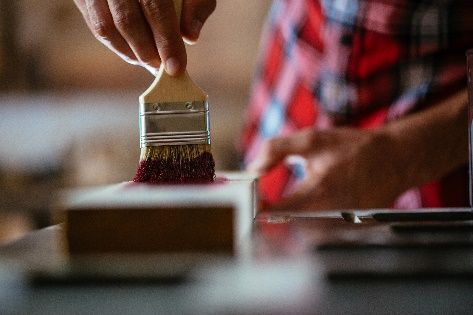 It's a question that comes up a lot. You may have inherited a piece of furniture from an aunt or grandmother that you think may be valuable, but it does not fit your decor. You may agonize over whether to keep it as is, sell it, or paint it for a more modern theme.  Here are some things to consider in making that decision.
The most important consideration is: What is the future for the piece? Do you want to eventually sell it to a collector or are you keeping it for sentimental value? If you hope to resell it, doing a light repair such as tightening loose areas, will not diminish its value. Some say a complete restaining and/or bleaching will diminish the value for purist collectors.
Next, is the piece all there? Does it have all of its drawers, trim, pulls, and is it free from structural damage? Is it in good condition? If you can answer "yes" to those questions, then do not paint or restain. You may want to condition the wood with hemp oil and restore it to its original luster. If the answer is "no", you may want to consider finding replica hardware or using molds to recreate the missing trim. A great deal of repair work usually leads to the need to paint a piece.
Is it well made? Are the drawers dovetailed or pegged? You can look for clues that it was handmade, such as uneven dove tails that were cut by hand or saw marks on the bottom. If it is high-quality and looks like it was handmade, it is best to not paint the piece to retain its value.
What type of wood is it? Mahogany is a valuable wood and is very difficult to paint due to the tannins causing bleed through.  Teak, Cherry, Burl Walnut, are expensive woods whose value will likely diminish with painting.
Was it made by a notable craftsman? Look on the underside or back for a label. Some notable craftsmen include Davis Cabinet Company, Wakefield, Haywood, Stickley, Hinkle Harris, and even some older Lane pieces. Repainting these pieces will likely diminish the value. If you find a label, you can easily do a Google search to discover the company's history and get a sense of the value of similar items before you contact an appraiser.
In the end, let's go back to the first question, "What is the future for the piece?". It comes down to personal preference. If you want to keep your Aunt's secretary for sentimental value but you can't tolerate the dark wood or you want it to fit into your modern decor, then paint it to your liking. We do encourage you to use a professional so it is properly prepped and the finished product is durable and beautiful. This is not the time to start a DIY project.
Antique and vintage furniture lends a comfort to your home and reflects your personality. Buy what you love and make your home uniquely you.
Is it on trend?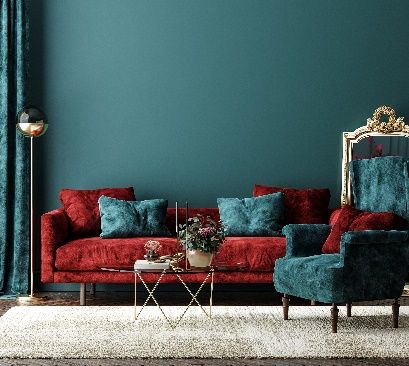 Just like there are trends in fashion, home decor has rising and falling trends as well. If you're wondering what's the next big trend in home decor, or you are about to remodel, here are some clues to guide you.
Historical events - Oftentimes trends rise in conjunction with major historical milestones. For example, King Tut's tomb was exhumed in 1922 and we saw a rise in Egyptian themed decor. As the 100th anniversary of that event is celebrated, we are starting to see a renewed interest in Egyptian themed decor. It may be a fun elephant planter, a design element on a night stand, or brass candlesticks.
Economic influence on culture - After a period of economic hardship, we often see a rise in colorful, bright, fun decor as people want to forget what they went through and have fun. After the Great Recession, we saw a rise in less expensive materials being used (think Ikea), bold Chevron patterns, painted pieces, mid-century modernism and minimalistic design.
As we emerge from the pandemic of the past two years, we're seeing a trend toward creating a cozy, comfortable space in homes. Trends indicate natural woods, texture, macrame, and comforting tones are desired. Think earthy tones like beige and brown, accentuated by oranges, reds, and navy blue. The minimalistic and all white decors are starting to lose favor as we want to be comforted and soothed when we return home.
Mid-century modern is starting to give way to traditional nouveau design which incorporates traditional antique and vintage pieces of furniture with a modern twist, such as chair seats upholstered with a modern fabric or monochromatic accents. Furniture with curves and design embellishments is now favored.
While warm tones are trending, bold accents are back. Wallpaper has returned yet better and easier than ever. Peel and stick designs are easy to apply and renter friendly. Think flowered accent wall versus whole room wallpaper.
Finally, generational influence - oftentimes trends are influenced by the generation below us. Grandmillennials are individuals in their mid-20s to late-30s who are having a significant impact on up and coming trends. They are embracing a classic, comfortable style and their grandmother's most loved items such as needlepoint, crystal, the good china, embroidered linens, and florals. 
Antique and vintage furniture and decor accents lend a comfort to your home and are a reflection of your personality. Buy what you love and make your home uniquely you.
Top trends in vintage costume jewelry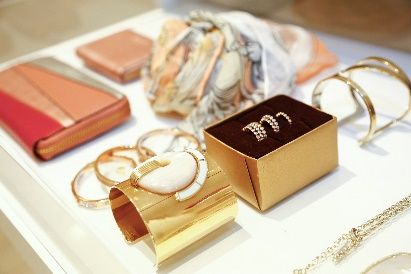 As we mentioned in a previous post, home decor and fashion trends rise and fall based on many outside influences such as history, economy, and generational. Did you know that costume jewelry can be timeless, trendy, and valuable? Let's uncover the top influences of today's "must have" vintage costume jewelry.
What are celebrities wearing? Celebrities influence what's trending in all things fashion, and that includes jewelry. Kate Middleton, Duchess of Cambridge, who is frequently seen wearing a beautiful strand of pearls, is credited with a surge in interest by a new generation of women. Pearls are classic, timeless and one of today's top trends. Pearls adapt quite well to any occasion. Fine cultured pearls lend elegance to an outfit for a formal occasion or the larger freshwater Baroque pearls add a fun and flirty element. A girl can't go wrong with a strand of pearls around her neck or with drop pearl earrings.
What's happening in the economy? We're not talking about what you can afford to buy. After a period of lockdown and delayed weddings, proms, and parties, we are ready to dress up, glam out and be seen. That means bangles are back, baby! Bangle bracelets are raging now, with ladies wearing five or more at a time. They are chic, playful and best when mixing uber thin bangles with chunkier 80's inspired hinged bracelets.
There is nothing that pairs better with bangle bracelets than hoop earrings. Remember the fashionable shoulder brushing hoops of the '70's? Those distinctively cool earrings are back to add a unique flair to your ensemble. 
What's on the runway? One need to look no further than the fashion designer's runway shows to see how fashion icons are accessorizing their creations. Chunky, big gems are on today's stage. Bold vintage cocktail rings with oversized gemstones, colorful bauble rings, and funky Y2K enamel rings are trending with a no holds barred approach. Wear as many as you like with as many styles as you prefer. Remember the chain belts of the early 90's? They are roaring back better than ever with designers featuring several being worn as belts or to create a slim fit over a spring sweater. 
Vintage jewelry never truly goes out of style. It is an investment that can be passed along to the next generation who will enjoy it for many more years.
What are the top vintage costume jewelry brands?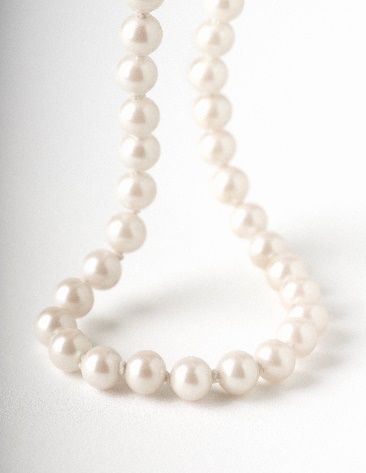 In our last post, we shared the top trends in vintage costume jewelry, and this week we're sharing what brands and designer names to keep an eye on as you are treasure hunting.
You may ask, what's the difference between costume or fashion jewelry and fine jewelry? Costume or fashion jewelry is generally made with plated metal and simulated stones, while fine jewelry uses solid precious metals and precious gemstones. To tell if a metal is plated, look for the letters GP or SP, meaning gold plated or silver plated. 
The most sought after fine jewelry brands are Harry Winston, Cartier, Tiffany & Company and Van Cleef and Arpels. It is not uncommon for vintage pieces by these designers to go for thousands or hundreds of thousands of dollars.  While that may be out of reach of the average shopper, there are costume jewelry designers whose work is also highly sought after and can command hundreds of dollars.
Coro, Corocraft and Vendome are versions of the same company as it went through various name changes. Known for its patriotic pins and figures, a piece marked "Coro" is considered most valuable. A 24-piece lot of Coro and Corocraft pins recently sold at auction for $1,700.
Coco Chanel began creating artful statement jewelry in the 1920's. The line mostly featured brooches and then gold-plated and faux pearl necklaces were added. Look for the forward and backward "C" with overlapping backs. A pair of vintage Coco Chanel clip-on earrings recently sold for $700.
Hattie Carniege designed gorgeous brooches featuring Swarovski crystals, florals, and animals. The pieces are marked with her name, initials, or simply "Miss Hattie". A Hattie Carniege matching floral brooch and earrings brought $120 at auction.
Miriam Haskell is a sought after brand that is hard to identify as few pieces carry a maker's mark; if there is one, it is a horseshoe. Miriam was not a designer but hired experts to design her jewelry, which featured florals using Swarovski crystals, faux pearls and other popular metals. A 1930s coral, pearl, and glass necklace and earring set recently sold for $600, with brooches fetching $200 to $300.
A brand still in production today, Trifari's vintage pieces are highly sought after, especially its crown and jelly belly pins. The older pieces can be identified by a small crown mark, which later evolved to the company name and trademark. A vintage Trifari jelly belly brooch sold at auction for $1,450 and a 10-piece lot of necklaces and earrings sold for $6,500.
Let's talk kitchen collectibles.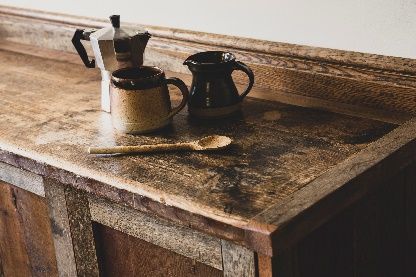 Did you know that the average woman spends 51 minutes a day in the kitchen preparing meals, and most families eat at home five to six days a week? That means from age 18 to 70, a woman will spend 13,988 hours in the kitchen. It's no wonder that we love to collect those kitchen objects that bring back treasured memories of creating meals with our mother or grandmother.
So what is a kitchen collectible? It is any gadget used in the kitchen. Simple enough, right? It may be a flour sifter, a rolling pin, a mixing bowl, a pastry cutter or even an old toaster. There are people who collect just one item in particular, such as Pyrex bowls, or there are those who have retro kitchens that take us back in time. 
The beauty of kitchen collectibles is you may continue to use them while displaying your collection, with some caveats on care. Always hand wash your object, keep it away from direct sunlight that can damage or fade the designs, and occasionally freshen the wooden pieces with olive oil or butcher block oil.
If you have some older kitchen objects and you want to know if they are valuable, here are some tips:
Is it still being made? Hand crank wall mount coffee grinders and butter molds come to mind. A wall mount coffee grinder easily brings $125 and up, while a butter mold in the shape of an animal will command $50 and up. Items that are no longer being produced and are hard to find may be valuable.
Does it have a unique handle or design element? Objects with red or green painted wooden handles are in demand, but if you can find one with advertising, it is very valuable. A Western Stoneware rolling pin, for example, can fetch upwards of $500.
What is it made from? A bottle opener or ladle that has a Bakelite handle (a plastic made in the 1930s) sells for $25 to $30. Cookie cutters can sell from $30 to more than $1,000, depending on the material and subject. A cookie cutter with a wooden handle is more valuable, and those made from copper will sell higher than a similar aluminum one.
Finally, condition, condition, condition. While a faded red handled rolling pin has its charm, your kitchen collectible will command the highest price if it is in mint to near mint condition.
Honing in on Pyrex.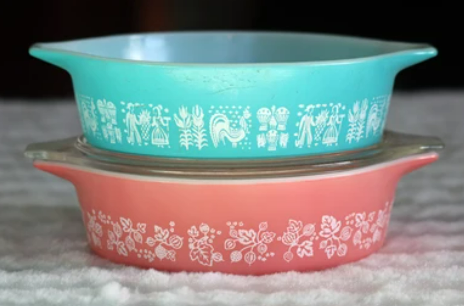 Last week we delved into the world of kitchen collectibles. This week let's look into the allure of the most enduring kitchen collectible - Pyrex. 
Pyrex was introduced in 1915 by Corning, Inc. as a line of clear, low-thermal-expansion borosilicate glass used for laboratory glassware and kitchenware. Its conception was influenced by a woman, of course! Bessie Littleton was the wife of an engineer at Corning who became frustrated by dishes broken after one use in the oven. She asked her husband for glass samples from the laboratory so she could experiment, and not only found success, but the beginning of this 100-year-old, enduring brand. 
How did Pyrex get its name? In 1908, Corning Glass Works, located in New York, developed a borosilicate glass that could withstand extreme heat and cold without breaking. They called the glass "Nonex" and used it in battery jars and railroad lanterns. It was this glass that Bessie's husband brought home for her kitchen experiments. After Bessie discovered the product's durability as ovenware, she convinced the company to expand its line to include kitchenware. The company launched its first Pyrex line in 1915. The name Pyrex was a combination of "pie" and "Nonex", and started with 12 pieces, including pie plates and a loaf pan. 
In later years, the line was expanded to include ware products made of soda-lime glass and other materials. Products made with the original borosilicate glass are said to perform better when exposed to thermal shock and are more highly sought after by collectors.
The original line of Pyrex was clear glass, with the marketing allure being that it can be polished clean to "scintillating purity" and baking can be accomplished with "scientific exactness." I don't know about you, but those seem to be high standards to me! It wasn't until 1945 that Corning began to introduce the designs that we now love to collect. Opal or white Pyrex decorated in various colors and designs on the exterior started with the original four-bowl set that sold for $2.49! Today, the original set will easily sell for $100-$200!
From those humble beginnings, Pyrex began creating sets in many colors, oftentimes to match what was trending in home decor at the time. From primary colors in the 1940s, the 50s saw pink and aqua blue; the 60s white, brown, and striped; the 70s avocado green, butterscotch, and orange.
Next week, we'll share the most popular and sought-after patterns and share some values. We'll also give tips on how to start collecting. Here's a hint - the top Pyrex item on eBay is listed for $12,000!
Pyrex Part 2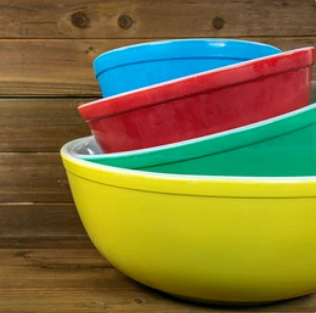 There's dollars on them thar shelves! Pyrex!  Last week we shared that Pyrex came to be in 1915, and in 1945, the company began producing the opal or white Pyrex decorated in various colors and designs on the exterior. That's how most of us associate Pyrex - beautiful white bowls or casserole dishes with colorful dots, flowers, or designs on the outside. Nearly everyone we spoke to after the first blog came out recalled their mother or grandmother having a collection; and many people reported still using their beloved Pyrex today.
Do you happen to know which are the most sought after designs and what they are worth today? Let's dive in and take a look. You may want to reconsider using your Pyrex after this!
It's not surprising that the patterned Pyrex are the most valuable. The 1956 Pink Daisy featuring a pink background with white daisies can bring $245 for a 1.5 qt. Casserole with lid. The 1983 Colonial Mist nesting bowl set with both navy blue background and white flowers and white background with navy blue flowers, is listing between $245 and $279. 
The rarest of the designs are most sought after. Some Pyrex designs were limited edition runs and are hard to come by. The 1957 Butterprint which featured a white bowl with an orange design of an Amish couple with their crops, is bringing close to $2,000 for a four-bowl set in mint condition. The design also came in white with a turquoise design and can command $400-$500 for a four-bowl set. If you should ever stumble across a 1959 Lucky in Love pattern, the last known piece sold for $4,250 in 2015. 
Other patterns commanding high prices today include the Atomic Starburst pattern featuring a turquoise blue background and gold starburst. A casserole with lid in mint condition can fetch $1,000 to $1,500. 
Pyrex also made chip and dip sets with a metal holder for the smaller bowl. A complete set in mint condition is highly sought after. The hot air balloons design, with a turquoise background and white balloons can bring $200-$400 for a set with the original bracket. 
Condition plays a huge factor in high prices as well as whether or not the lid is included with casserole dishes. Look it over carefully. Is the pattern still vibrant, does the lid have flea bites or chips? Mint condition is a must for avid collectors as they are looking for near new pieces.
Finally, a word of caution. If you are still using your Pyrex, please keep it out of the microwave and the dishwasher. Some of the paints have metallics in them, which could cause them to flash in the microwave. Dishwasher detergents combined with high pressure washing will fade your design. Keep it away from direct sunlight as well. Use your Pyrex, but gently hand wash and dry.
Pyrex's rich cousin - CorningWare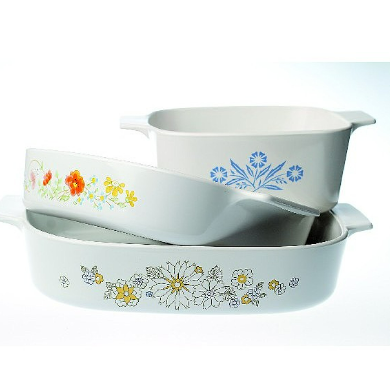 Last week we explored the values of Pyrex, and in keeping with the theme of kitchen collectibles, let's talk about CorningWare. We like to refer to it as the rich cousin of Pyrex as it has its own following and has soared in value. 
Here's a little known fact: The material used in CorningWare was initially produced for nose-cones in radar-guided missiles! Stanley David Stookey, a chemist at Corning Glass Works in New York, invented Pyroceram, the material used in CorningWare, by accident. 
Stookey's life's work was studying the "exotic and mysterious" properties of glass chemistry. Amid a copper shortage during World War II, he worked on a project to create pennies from photosensitive copper ruby glass disks, with Abraham Lincoln's image appearing within the glass. The project was later scrapped as it cost more to produce a penny than the face value. That work foreshadowed Stookey's innovation in the late 1940s: a transparent aluminosilicate-based glass made photosensitive by the presence of trace amounts of gold, silver, or copper. A three-dimensional design could be etched into the glass, called FotoForm, and used for photography, printing, electronics, and designer windows.
This invention was the catalyst for the happy accident that brought CorningWare to life. In 1952, Stookey mistakenly heated a piece of FotoForm to 900 degrees when he meant to heat it to 600 degrees. He admitted to cursing when he discovered the mistake as he thought he would find a molten mess in the furnace. When he opened the door, he saw the glass had turned a milky white; and when pulled the piece from the furnace and accidently dropped it, to his surprise it did not shatter but actually bounced! 
In 1957 Corning revealed the product they called Pyroceram to the public and did demonstrations by torching a piece and then plunging it into water. Can you imagine watching a demo at Sam's Club today that includes a blow torch! It was an impressive display of the product's ability to withstand thermal shock; and in 1958, the company introduced one of the most successful kitchen cooking lines - CorningWare. The original Pyroceram-based products ceased production in 2000, and the brand launched a stoneware-based product in 2001. In 2008, the stovetop line was reintroduced by World Kitchen, a French subsidiary.
Collectors are seeking the original Pyroceram-based products. (If it's not Pyroceram, it will say "not for stovetop use" on the bottom.) Next week we will share the most popular patterns and values. To give you a hint, a complete 3-piece set in mint condition, with Pyrex lids, is listed in the $20,000 range!
CorningWare Part 2: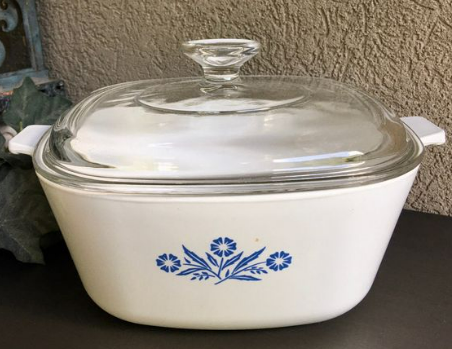 OMG I can't believe I gave that dish away! If you are like me, after reading this article, you are going to recall selling a CorningWare casserole for 50 cents at a yard sale that is worth hundreds today! 
Last week we shared that the material used in CorningWare was initially produced for nose-cones in radar-guided missiles! Stanley David Stookey, a chemist at Corning Glass Works in New York, invented Pyroceram, the material used in CorningWare, by accident. 
Do you happen to know which are the most sought after designs and what they are worth today? Let's dive in and take a look. 
Typically, a limited edition or older pattern would command the highest price; this is not necessarily true for CorningWare.  Thanks to a revival in interest in all things 70s, CorningWare patterns produced during that period are hot sellers. 
The most mass produced pattern, second to Cornflowers, is Spice of Life (produced from 1972 to 1987). In the earlier "Spice of Life" casserole dishes, you'll find one of three inscriptions just below the veggies. These are French phrases – La Romarin, L'Echalote, and La Marjolaine.However, not all of the models had the model name inscribed below the pattern. Rare model names include 'L'echalote La Marjolaine' and 'Le Romarin'. There is a model listed on eBay now for $26,000 which has L'echalote La Marjolaine' inscribed below the vegetables. Keep in mind that list price does not reflect sales price as when "best offer accepted" is used, we do not know the actual sales price.
The second most valuable pattern is the original, Blue Cornflower, which was produced in 1958. The original was produced with sloped sides until 1972. The earlier versions can fetch $1,500 for a casserole. If you should be lucky enough to find the full 13-piece cookware set, it is most valuable. Lids alone can fetch hundreds of dollars.
Other rare designs include:
Floral Bouquet, which was manufactured for a very short time period between 1971 and 1975. The pattern is a whimsical design of flowers in orange, black and blue with pale green leaves. A set can sell for $1500.
Blue Heather, produced from 1977 to 1981, features delicate blue flowers connected by green vines. A large casserole in new condition can bring $100 to $150.
All White, produced in a limited edition run for one year in 1965, is a sophisticated white design that is sold in the $60-90 range.
CorningWare departed from its typical floral design with the Renaissance pattern. It features a pen and ink design of scenes from Stockholm, inspired by an etching of Stockholm's seaport found in the 17th-century book Suecia Antiqua et Hodierna by Erik Dahlbergh. It was a limited, one-year run produced in 1970 and sells for $80 to $150 per piece.
A-Tisket A-Tasket Let's Talk Vintage Baskets.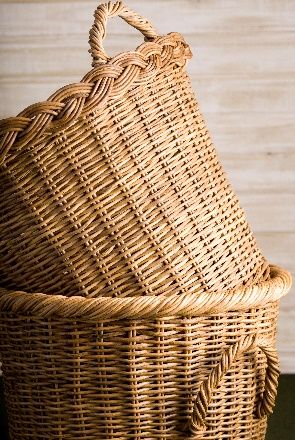 Baskets have been around for thousands of years, and have been hand-crafted with specific uses in mind. Some original purposes included gathering berries, carrying harvested crops, holding fresh caught fish, and even carrying water. Today, a vintage basket can be used to create a distinctive centerpiece, add a special touch to a display of collectibles, or even as wall art in your home. A nice aspect is they can be purchased for as little as $10 or up to hundreds of dollars for a rare antique basket, which helps you tailor your collection to your budget.
Vintage baskets can be made from a variety of natural resources - grasses, sticks, tree bark, plant stems, and wood. You may hear the term "wicker," which is often thought to be a specific type of material. Wicker is any type of item woven from natural or man-made material. Rattan, on the other hand, is an actual plant from which strips are peeled away to make a basket.
How can you tell if a basket is vintage? Baskets can be found in three styles: coiling, weaving, or plaiting (a form of braiding). Vintage baskets weigh more than modern baskets and usually have wooden handles. Another key is the coloring. Vintage baskets draw their color from nature, meaning dyes made from crushed berries, flowers, and leaves, lending more variation in the color saturation. The handles will have darkened areas from the oil of the hands that carried them. Also look for intricate design work. Modern baskets are typically machine made and do not have the same fine detail as a vintage basket.
Some of the most valuable antique baskets are the Native American, Chinese, and Shaker. 
Native American baskets have a distinctive design unique to a specific tribe, but all have one common factor: they are woven in an over and under style. A vintage 19th century Native American basket currently sells from $250 to $4,000 depending on size, style and tribe.
Antique Chinese baskets are typically made of wood. Elmwood was primarily used in baskets, as was bamboo. They often have compartments as the Chinese people lived in smaller abodes and baskets served as organizational tools. Antique Chinese baskets currently sell from $145 to $900 depending on size and use, with the stacking wedding basket being most desirable.
Classic American Shaker baskets are truly rare. These baskets were made as either working or decorative baskets and can be identified by the material (ash or white oak) woven in a flat splint style, and by a hallmark. There are few listed due to rarity, with a small wooden 19th century splat basket selling for $495.
You may be wondering about the classic Logaberger basket that once sold for hundreds of dollars. In next week's blog, we'll share the company's history and where current values stand.
The rise and fall…and rise…of Longaberger.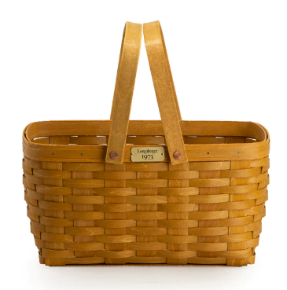 When I moved into my first very own apartment at the age of 21, I recall going to a Longaberger basket party and thinking that someday I would be able to afford one of the large, hand-made baskets that sold for hundreds of dollars. Little did I know that by the time I could afford one, the company's fortunes had risen and fallen and a basket could be found at a thrift shop for a fraction of its original sales price. That's not so true today, as the brand is enjoying a resurgence in interest thanks to the popularity of farmhouse decor. Let's talk Longaberger!
The company was founded by Dave Longaberger in 2013, in Dresden, Ohio. Dave's family has a rich history in basket weaving, as his father, J.W. Longaberger, apprenticed at the Dresden Basket Factory and later purchased the company from bankruptcy after the Great Depression. While his father ran the Dresden Basket Factory, Dave started his own company. The J.W. Handwoven Basket Company launched in 1973 and Dave began selling hand-made, beautifully crafted, signed and dated baskets through a unique multi-level marketing plan similar to Tupperware. Longaberger home basket parties were the rage throughout the late-70s, 80s and 90s, until changing decor tastes and the 2009 recession caused sales to slide and basket values began dropping. At its peak, the company employed 8,200 people, not including direct sales consultants. The company filed for bankruptcy in 2018. 
So why are we seeing a resurgence in Longaberger? Xcel Brands purchased the company's intellectual property in 2019 and signed a licensing agreement with basket weavers Dresden & Company. Dave's oldest daughter, Tami, took part in the relaunch.
Today, the baskets with real value are those from the original company that are signed and numbered or those from the Longaberger Collectors Club. As you are combing through thrift stores or estate sales, keep these names handy as they represent the basket weavers most sought after: Founder Dave Longaberger; Dave's mother, Grandma Bonnie; both of Dave's daughters, Tami and Rachel Longaberger; and finally Dave's brothers and sisters in birth order:
Genevieve #1, Wendy #2, Jerry #3, Larry #4, Richard #6, Maryann #7, Judy #8, Ginny #9, Gary #10, Carmen #11, and Jeff #12. It goes without saying that the highest prices are garnered when the basket is in absolute mint condition.
The highest priced vintage Longaberger basket on eBay is a 1984 J.W. Collection wastebasket listed for $497. A J.W. Collection miniature basket collection of 10 is listed on Mercari for $375, and a J.W. Collection 1985 Edition Apple basket is listed on Ruby Lane for $225. But do not despair, there are many 7.5 to 9.5" baskets in the less than $20 range in which to start your collection of these charming baskets.
What does talk of recession and sustainability have in common? Depression Glass!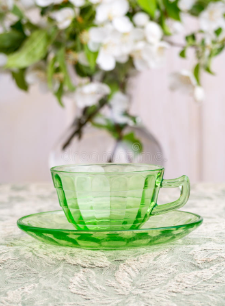 Seems like an odd combination, right? With the increasing interest in environmental sustainability, more people are interested in saving and renewing items of the past while moving away from "throw away" furniture and home goods. That's why we've seen a rise in interest in antique furniture as it is solidly made, beautiful, and will last for generations.
So how does a looming recession connect to depression glass? Searches on Google for the Great Depression are up 200 percent. With that, people are discovering the history behind many goods and products that helped people survive and cope during this challenging time. We can also thank the "GrannyMillenials" and Gen Z who are discovering the beauty of cottage style and cottagecore, which features thrifted decor, hand-crafted afghans, floral fabrics, ceramics, and vintage furniture.
The Great Depression was precipitated by Black Tuesday, the United States stock market crash of October 29, 1929 that foretold a severe worldwide economic depression that lasted until 1939. 
Depression Glass was brightly colored, cheaply made glass that was manufactured from the 1920s through the end of World War II in 1945. It quickly rose in popularity as most dinnerware of the time was made of clay or china, and new glass making machinery and factories allowed for glass dinnerware to be made cheaply.  Its creators hoped that the glassware would be a bright spot for families who came together for meager depression-era meals and help them get through very dark times. 
Depression Glass was sold through five and dime stores - that era's version of the dollar store. It was also given away as a promotional item in cereal boxes and flour sacks or given away at movie theaters or gas stations, which led to the thrill of searching for pieces to complete a collection.
According to the National Depression Glass Association, there were 92 Depression Glass patterns made by seven major producers of Depression Glass: Indiana Glass Company; Hocking Glass Company, Federal Glass Company, U.S. Glass Company, Jeannette Glass Company, MacBeth-Evans Glass Company and Hazel-Atlas Glass Company. While there are reproductions of Depression Glass, you can identify the original by the tiny bubbles in the glass and lines at the base. Reproductions will have smooth glass due to the refined manufacturing processes.
The most popular colors of Depression Glass today are blue, pink, and green, with search volume for pink being the highest.
In looking at the number of searches on Google for this collectible glass, Tennesseans account for 12th highest in volume of search among all states.
As of today, there are 89,000 items of Depression Glass listed on eBay with the highest priced piece selling for $2.1 million. Join me next week as I'll share patterns and values.
Depression Glass values are anything but…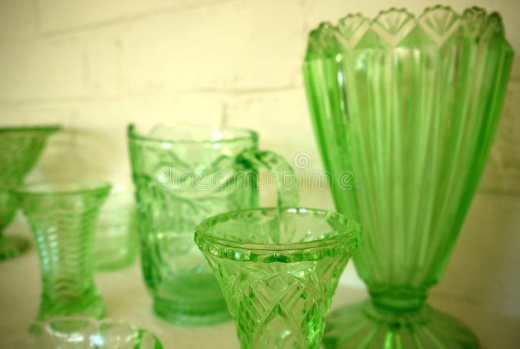 Last week, we shared the history of Depression Glass and took note of the rising interest in this beautiful colored glass.  Let's dive into values and patterns. Take a moment to click through the photos as you will see information about each piece. 
There were 92 Depression Glass patterns made by seven major producers of Depression Glass: Indiana Glass Company; Hocking Glass Company, Federal Glass Company, U.S. Glass Company, Jeannette Glass Company, MacBeth-Evans Glass Company and Hazel-Atlas Glass Company. The Hazel-Atlas Glass Company was a late entrant to the market, in 1930.
While Tennesseans account for the 12th highest volume in search for Depression Glass on Google, we know that "pink" is the most researched.
The design of the early years was heavily influenced by the Art Deco period. The Indiana Glass Company made the first known pattern called Avocado in 1923 until 1933. Today a pink 64 oz. pitcher retails for more than $1,000, while a 12" cake plate in green from this period retails for $130, and a sherbert cup is about $25. The Avocado pattern was made in green, pink, crystal, and white milk glass.
Luncheon sets became the rage and the next big launch in 1927. Hocking Glass introduced the pattern Ring, a 20-piece set; US Glass produced Floral and Diamond Band, a 15-piece set in five colors; and Federal Glass premiered Raindrop, a 20-piece set. This writer found it impossible to locate an entire intact set; however, individual pieces can be purchased from various online outlets for $15 to $25. 
Jeanette Glass was the fifth to enter the market and in 1927 and proclaimed itself to be the first fully automated factory.  It was also the first company to include refrigerator and kitchen glassware in its collection. The first Jeanette Glass pattern was Iris, an Art Nouveau design in crystal, pink and green. The pink pattern is coveted and hard to find, with a glass running $18 to $20. The refrigerator dishes were known for the distinctive ruffled design lid and were produced as a set in red, yellow, green. A complete set retails for $100.
The MacBeth-Evans Company had the shortest run, from 1929 to 1931, before the company became part of the Corning Glass Works company. Its Depression Glass pattern was Thistle, with only seven pieces produced in four colors: a cup and saucer, an 8 inch luncheon plate, grill plate, 5 1/2 inch bowl, 10 1/2 inch fruit bowl, and a 13 inch cake plate.
 Thistle is known for its delicate and thin design. Again we are seeing pink as the most desired color with a cake plate selling for $60, and a set of plates selling for $220.
On the hunt for MCM furniture.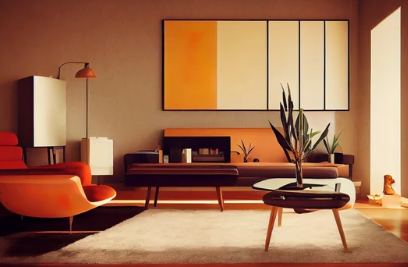 It's all the rage right now, with many sellers jumping on the MCM bandwagon when referring to furniture pieces for sale. But what does MCM stand for, are there certain brands you should look for, and is mid-century the same as MCM?
As with any hot commodity, there are imposters or those who will label a piece just to command a higher price, and we are seeing that trend for MCM furniture and decor.
MCM stands for mid-century modern. It is an era that can be tricky to nail down as modern design was developed in 1930 as a precursor to mid-century modern. Some use the term MCM to refer to any piece from the middle of the 20th century or from 1933 to 1965. However, the design of MCM came into its own in the post-war period or after WWII in 1945; and the official end to the MCM design era is 1975. 
It is fascinating to learn how post war events influenced interior designers. After the war, 15 million soldiers returned home to start their careers and families. President Franklin Delano Roosevelt shepherded the passing of the G.I. Bill of Rights, which, among many other benefits, guaranteed the value of home loans for veterans. Providing access to affordable mortgages drove housing demand and developers across America began building dozens of homes a day on housing developments thousands of acres in size. These post-war homes were smaller, 800-square foot Cape Cods. (As an aside, most homes today have larger garages!)
As fashion followed function, furniture was designed for these smaller homes. It's also important to note that there was still some post-war rationing of supplies and limitations on the family budget which influenced furniture-makers. For example, chairs had shorter backs to conserve wood and to fit a smaller dining room, upholstery was minimal with sofas and loveseats having small, tapering legs instead of upholstered skirts. End tables and coffee tables were smaller and had clean lines with open sides, again to minimize the wood being used and to fit a smaller room.
MCM furniture had a Scandinavian influence as well and can be distinguished by its simplistic design with either soft curves to mimic designs found in nature or a geometric shape for clean lines and sleek edges. It is typically solid wood with teak, elm, burch and rosewood favored. Although, plastics, metals and fiberglass can be found from that period. Some veneer was also used.
Is mid-century the same as MCM? The short answer is no. Furniture was designed during the 1950's and 60's that did not follow the same modern design elements. You may see that period being referred to as retro with bold upholstery colors and Formica and chrome tables,
Let's Explore MCM Brands and Values.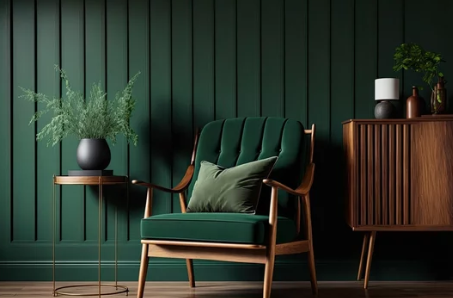 Last week we introduced the history and nation's economic conditions behind mid-century modern furniture or MCM. While the design of MCM was born in the 1930s, it came into its own in the post-war period or after WWII in 1945; and the official end to the MCM design era is 1975.
The enduring popularity of mid-century modern furniture can be attributed to its minimalist design, graceful curves that mimic nature or geometric shapes with clean lines and sharp edges that fit well into contemporary homes and are truly timeless.
While on the hunt for authentic MCM furniture, what names should you keep in mind? The list of designers who rose to iconic status is extensive, but there are some top tier furniture artists whose work commands the highest prices. There are also MCM pieces from companies like Broyhill, which introduced the Brasilia design in 1962, which are quality pieces that are affordable today.
One may immediately recognize Charlotte Perriand, who is considered a pioneer in MCM design; Harry Bertoia, who led the use of metal in furniture design; Arne Jacobsen, famous for the egg chair; or Eero Saarinen, who created the sleek, molded plastic tulip chair and table. Female designers Florence Knoll and Eileen Gray rose in prominence along with notable designers George Nelson and Charles and Ray Eames. George Nelson in particular was known for introducing the world to modular storage, and as the design director for Herman Miller, had a tremendous influence over the MCM movement.
A set of chairs by Charlotte Perriand, who is known for Modernist living room furniture, retails for $4,000 each. Harry Bertoia was famous for creating the diamond chair, which retails for $2,800 for an early 1950s edition to $800 for a late edition mesh back version.
Eero Saarinen's tulip chairs and tables are very much in demand. A tulip chair retails for $450 while a coffee table is $800; a complete dining table and 4-chair set retails for $8,000.
Florence Knoll is known for living room furniture that combines metal and texture. Today a sofa on chrome legs is more valuable than the editions on walnut. An early edition chrome sofa retails for $8,000 to $12,000, while one with a walnut base is about $4,000.
George Nelson was the founder of modular design. If you come across a piece, you may mistake it for waiting room furniture. But, when you realize that a sofa or shelving unit commands $12,000, you will want to take a second look.
Charles and Ray Eames are best known for luxury armchairs. Today an armchair with an ottoman as pictured retails for $6,000-$8,000.
While the designers above may be out of the range for most budgets, there are wonderful MCM examples that are affordable. The Broyhill Brasilia collection, which was introduced in 1962, is a popular walnut line with a pair of nightstands retailing for $2,400 and Highboy dressers $3,000. 
The Lane Furniture Company was in business from 1940 to 1957 and has pieces from the modern era. A Lane MCM lowboy dresser retails for $1,500 while a long dresser retails from $2,000 to $3,000.
What do hope chests and Women's Lib have in common?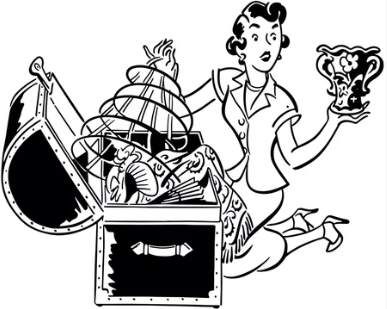 One brought about the demise of the other in its traditional use, and helped it to gain a new life. Hope chests or large wooden boxes gained in popularity in the Victorian era as women used them to collect what their young daughters would need when they were old enough to marry. They were also referred to as dowry or marriage boxes. 
When a girl was young, their mother would collect china, linens, quilts, kitchenware, and things they would need to start their own homes one day and place them into a large chest. Oftentimes, family heirlooms such as jewelry and photographs would be placed into the chest as well. As the girls aged, they began placing their own sewing or embroidery into the chest in preparation for setting up their own home after marriage.
This tradition continued well into the 1970s. I had my own Lane hope chest that I spent my high school years filling in preparation for one day being a wife!
The Women's Liberation Movement emerged in the 1960s and continued until the 1980s. Women became a political force in seeking equal rights and opportunities and greater personal freedom. This movement changed the picture of marriage as women felt free to delay marriage or cohabit in lieu of marriage. The hope chest as we knew it fell to societal change.
Today, we are seeing a revival in interest in the beautifully made boxes of years past and they have been reborn as "blanket chests" or "table chests."  As a blanket chest, it is perfect for storing collectible quilts or linens and table chests are often used as coffee tables.
Lane is the most commonly recognized name in hope chests. Lane began making hope chests in the 1920s and the last one rolled off the line in 2001. Lane cedar chests from the 1960s retail from $450 to $2,450 depending upon the time period, condition and other attributes. Mid-century modern designs fetch the high end of the value. To tell the date your chest was made, locate the serial number. If you read it in reverse, it is the date manufactured. For example, 4291402 would be February 14, 1924,
Not all hope chests were made of cedar. There are those made of walnut, mahogany, pine and even metal. Other famous makers include Cavalier, manufactured in Chattanooga, Ed Roos, and Caswell-Runyan.
A Cavalier blanket chest retails today from $400 to $1,800. An Ed Roos chest sells between $200 and $895 and a Caswell-Runyan retails from $300 to $450.
What's this Cottage Style and Cottagecore that's become so popular?
If you're like me, trends have to reach near hysteria levels before I realize that there's a decor change afoot.  Suddenly I'm seeing posts about Cottage Style and Cottagecore on my social media feeds and I'm drawn to the light, airy feel and beautiful colors like a butterfly to a nectar plant. As it turns out, Cottage Style has been around for decades and has been given a boost thanks to the COVID pandemic and Grand Millennials.
That sounds far fetched, right? Let's dive in and discover more together. Cottage Style originated with cozy English cottages in the 19th century. The design style has evolved to include Coastal Cottage, Rustic Cottage, French Cottage and Modern Cottage. All of the styles share a common theme - creating a cozy, inviting space that intermixes comfortable vintage items with furniture that does not match to create a welcoming atmosphere. 
Cottage Style is distinguished by its feminine vibe, use of natural elements such as warm wood combined with florals and patterns. Warm neutrals such as shades of cream and pastels are accentuated with vintage items in blue, green, yellows, and even pink or coral. It is common to see florals combined with stripes, checks or plaids in a mix of textiles and fabrics. 
A hallmark of Cottage Style is the repurposing of vintage furniture. Hope chests or trunks become coffee tables or vintage sewing machine stands are turned into bathroom vanities. A collection of antique mirrors are used as a wall mural; and book nooks are created to inspire one to curl up and read with a comfy chair, a vintage blanket, and a small repurposed plant stand to hold a tea or coffee cup.
The common thread in Cottage Style is embracing comfort. Grand Millennials are drawn to this style as it takes them back to a time when they visited their grandmother's home and felt instantly comforted by the cozy decor.
Cottagecore evolved more recently and its rise in popularity among Gen Z  has been attributed to Taylor Swift and her Folklore album.It is very similar to Cottage Style, in that it promotes the use of vintage items and comfortable spaces. The colors are less feminine and more muted and earthy such as soft shades of green, and the decor incorporates beautiful hand-made items such as candlesticks repurposed into lamps, and more brass and copper. Fans of Cottagecore encourage going through grandma's attic or the neighborhood thrift store and finding treasures that could be given new life. Think of Cottagecore as budget friendly with a homespun feel.
So what does the pandemic have to do with interior design? Prior to the pandemic, open floor plans were the rage with Farmhouse style dominating with its white, gray, and ultra neutral tones, thanks in large part to Chip and Joanna Gaines. As families spent more time quarantining in the same house together, working and homeschooling at the same time, they began to crave the privacy of small spaces and a more comforting aesthetic. Architects are being asked to use walls again to define spaces and interior designers are gravitating toward the use of color. Color has the ability to evoke an emotional response, and a home with soft blues and greens evokes a sense of calm and peace. Homes are our sanctuaries and Cottage Style and Cottagecore have taken the design lead in creating a sense of cozy comfort.
Viva la Fiesta!
Fiesta is America's favorite dinnerware. You may be surprised to learn that the original parent company of Fiesta was founded by two brothers from East Liverpool, Ohio,
Homer and Shakespeare Laughlin, in 1871. They originally produced crude yellow ware from local clay and transported their wares throughout the region via the Ohio River. As trends changed, the company transitioned to a more popular white granite ware under the Homer Laughlin China Works label.
By 1877, the youngest brother, Shakespeare, decided to move on from the business; and by 1897, Homer decided to retire to California and sell the business to his young bookkeeper, William Edwin Wells, and a financial partner, Louis I. Aaron. The new owners began a rapid pace of expansion with five plants opened by 1914 and an additional three by 1929. They also forged partnerships with F.W. Woolworth's dime store and American Cereal Company of Chicago to put its wares in oatmeal boxes and offer as gifts with purchase.
The most significant change in the company's direction came with the hiring of Frederick Hurten Rhead as design director in 1927. His reign was the most prolific for new design introduction in the company's history, and he is responsible for the colorful dinnerware we love today, Fiesta.
The Fiesta line was introduced in January, 1936 at the Pittsburg China and Glass Show. The original line consisted of Red, Yellow, Cobalt Blue, Green and Ivory, with Turquoise introduced in 1937. There were 34 pieces in the launch, including coffee pots,
sugar bowls, candle holders, casseroles, plates, bowls, and carafes. Seventeen more styles of cups (including the Tom and Jerry mugs), marmalades, mustards, platters and vases were added before the end of the decade.
America fell in love with the Art Deco style dinnerware and by its second year in production, more than one million pieces were sold. 
The company was firing on all kilns until the start of World War II, then production transitioned to making china for the armed forces. After the war, production returned and reached its peak in 1948. A soft palette of pastels was introduced in 1950 and sold until early 1960, when the line returned to bright colors again. To respond to fashion trends, the company introduced earthy colors in the 1970s, but they were short-lived as sales began to drop. Sadly, the company retired Fiesta at the end of 1972. The Homer Laughlin Company continued to thrive as it became the leading producer of restaurant dinnerware.
As is often the case, once the line was retired, collectors began coveting their favorite colors and expanding their collections. Bloomingdale's recognized an opportunity to revive this much loved line and in 1986, the two companies partnered to introduce a line of Fiesta with new colors, improved design and lead-free glaze. Since 1936, there have been a total of 55 colors in the line. 
How can you identify and date your Fiesta? The key pattern to recognize on a piece of genuine Fiesta is a band of concentric rings graduating in width. In its design, the rings closest to the rim are more widely spaced
.
Earlier versions use a lower case "f" in the Fiesta inked backstamp, while the new versions capitalize "F".  Earlier versions of the backstamp also have variations of HLC USA,  H.L.C. Made in USA, or the words Genuine H.L.Co. USA.
The beauty of the introduction of new colors is that it provides an easier way to date a line. A complete color history is published on the
Fiesta
website. Some of the original colors were produced more than once. For example, Red was produced from 1936-1943 and 1959 to 1972. Also, the later colors are very close in tone to the earlier colors, making it difficult to distinguish vintage from newer. Post 1986, a three letter code backstamp was added to the underside of some of its items, which will tell when a piece was formed. AA stands for 1986, BB for 1987, CC for 1988 and so on. The third letter stands for the quarter of the year. A represents the first quarter, B for the second quarter, then C and D. So an item with AAB was formed in March 1986. To further help, in 1998, Homer Laughlin added a small raised "H" to the undersides of all Fiesta made from  the original molds.
Fiesta is a  noun that comes from the Latin festus, meaning "festive, joyful, or merry," and the Spanish meaning is "feast."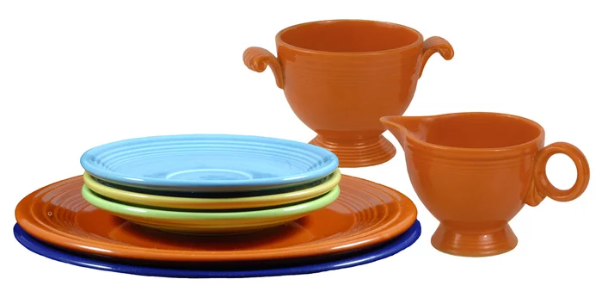 How fitting that the bright, colorful line of Fiesta ware transforms your table and lends a festive vibe to your dining room. 
Last week we explored the history of this popular line originating from the Homer Laughlin China Works Company. Do you happen to know which are the most sought after designs and what they are worth today? Let's dive in and take a look.
The original line was introduced in 1936 and consisted of Red, Yellow, Blue (Cobalt), Green and Ivory, with Turquoise introduced in 1937. 
The value of your Fiesta is determined by the age, wear and tear (condition), type of item, and the color. It is important to note items that are pre-1986 versus post 1986, as the original line ceased to exist in 1972 and was revived by Bloomingdale's in 1986 using the original molds.
From the original line, Turquoise and Yellow are relatively common, while Red and Medium Green demand a premium. Medium Green was the last and rarest color. A Medium Green bowl retails on Etsy for $525.
Red was originally produced using natural Uranium, and during World War II, production of this color was halted due to the raw materials being needed for the war effort. It resumed in 1959 using depleted Uranium rather than the original natural Uranium. (The dishes do emit radiation, but unless the dish is chipped, the level isn't harmful.) The color morphed into Mango in the 1970s.  Most sellers will list a vintage red item as "radioactive Red." A salad bowl retails for $325 on Mercari, a butter dish for $219 on eBay, and a set of nesting bowls for $1,000 on eBay.
1950s colors included Gray, Rose, Chartreuse, and Forest Green.
For most vintage colors, a set of eight plates will run from $42 to $68. 
Pieces that demand the highest prices are the serving pieces in earlier colors, such as cake plates, juice pitchers, relish trays, gravy bowls, fruit bowls, or casserole dishes.  An original Yellow cake plate retails for $1,300 on replacements.com while an original Green is selling for $650 on Etsy. An original Gray juice pitcher is selling for $2,400 on replacements.com. A relish tray featuring the original colors retails for $375 on Etsy. A 1950s Gray gravy bowl retails for $95 while a rare Medium Green is selling for $120. Finally, the original Cobalt casserole dish retails for $225 on Etsy as does a 1950s Chartreuse casserole.
As a new collector, don't let the high prices of vintage pieces keep you from building your collection. There were 55 colors produced in the line and many from the 1950s are very reasonable. My favorite color is Yellow, which was introduced in 1936, and is an affordable $45 for a 5-piece place setting. I mix and match it with the Cobalt Blue from 1986, currently retailing for $60 for a 4-piece place setting. That's the fun of Fiesta, mixing an earlier color with a later color to create a unique tablescape that brings joy and merriment to your table.
Vintage advertising signage - it's not just for man caves!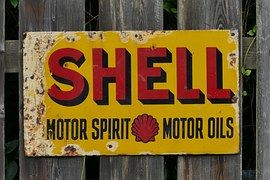 In a March 2022 article, Collectibles Insurance Services reported that vintage advertising signage is the second most desired collectible today, behind vintage records. Vintage signage can be found advertising everything from soda to cigarettes and farm implements.
Before digital advertising, billboards, social media, and neon signage, business owners used large, colorful signs on the outside of their establishments to attract the attention of customers, market the business, and increase brand awareness. Some enterprising shop owners even convinced farmers to put signage on the sides of barns to advertise the business to passerbys. 
The earliest signs were often made of wood and oftentimes in a shape that would help distinguish a business. A shoe for a cobbler or striped pole for a barber,, for example. It wasn't until the mid-1800s to early 1900s that signage took on an artistic flair with beautiful typography used on enamel, iron, and tin. Unfortunately, many of the signs made during the late 19th Century and mid 20th Century were lost to the war effort as they were melted down during World War II.
Those not lost to the war effort are typically cast iron or steel, with enamel over the top. As steel became more expensive, shop owners turned to tin to reduce the cost. Most of the vintage metal signs you will find on the market today are made of tin. To test the authenticity of a sign, one method is to use a magnet. A magnet will stick to a cast iron, steel or tin sign. If it does not stick, it is likely a coated aluminum reproduction sign.
As processes became more sophisticated in the late 19th Century, manufacturers were able to trim, stamp, and apply lithographs to tin sheets. This opened a whole new world of artistic expression and signage with colorful and vibrant imagery was developed for an array of products from cosmetics to tobacco. 
Porcelain signs made their way to the United States from Germany in late 1890. The signs are actually porcelain enamel, with a base of heavy rolled iron onto which enamel is fused layer by layer.  The colored enamel was applied to a white powdered-glass base of a sign using a stencil. These are highly collectible. A large vintage porcelain enamel advertising sign retails for $1,600 to $3,000. 
At the turn of the Century, American manufacturers developed a more refined process for vitreous enameling and one of the most prolific manufacturers was located in Nashville, Tennessee. Tennessee Enameling produced porcelain signs for Coca-Cola and other brands.
The first neon sign made its way onto the scene in 1912, but due to the cost to manufacture, they were limited. It wasn't until the 1940s-1950s that custom signs for restaurants, bars, automobile dealers, and hotels became prevalent. 
What makes a vintage sign valuable? First, it is anything that is pre-World War II porcelain-enamel. Ironically, for signage it is not just age that determines value. Content is king, meaning that collectors are attracted to iconic brands. Larger signs over 30" are highly sought after, and then condition - including vibrancy of the art - drives value.
What brands are collectors seeking most? The highest prized are anything automobilia and petroliana such as Mobile Oil or Sinclair Oil. A vintage neon winged Pegasus Mobil Oil sign recently sold at auction for $70,000.  Coca-Cola, Pepsi, and old-school beer signs for Hamm's, Budweiser, and Schlitz are popular. A 1940s Coca-Cola flange button sign is currently listed on eBay for $12,000 while a vintage Budweiser sign is selling from $250 to $1,000. Farm implement dealers John Deere and International Harvester and animated novelty signs for businesses sell well. A vintage Pure Oil porcelain sign with animated neon is selling for $9,900 on eBay.A 1925 John Deere porcelain sign is currently listed for $5,150, while IH signs are available from $200-$500.
Here in the South, it's Coke, period.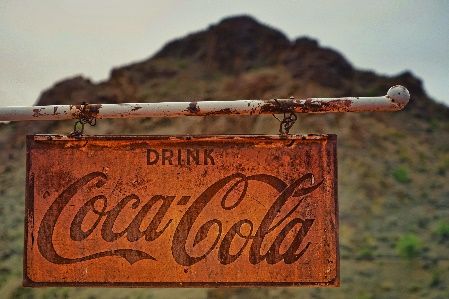 Chattanooga played a pivotal role in the growth of this iconic brand and is a driving force behind the strong Coca-Cola collectible market in this region. A fun fact: In 2020, an unopened Coca-Cola bottle from 1974 sold for $29,900.
Coca-Cola originated in Atlanta, Georgia in 1886, when pharmacist Dr. John Stith Pemberton developed a syrup that he took to Jacobs' Pharmacy, where it was mixed with carbonated water for a drink that was declared "delicious and refreshing." The drink sold for five cents a glass.  Dr. Pemberton's partner and bookkeeper, Frank M. Robinson, was the brainchild behind the name for the product that was originally intended as a patent medicine and marketed as a temperance drink. (Temperance was a social movement against drinking alcohol.) Robinson was convinced that two "Cs" would look great in advertising and the name Coca-Cola was born. The flowing script that has been its trademark was penned by Mr. Robinson as well.
Dr. Pemperton sold his interest in the business to various partners until the remaining portion was sold upon his death in 1888 to Asa Candler. It was Candler who struck a deal in July 1899 with Chattanooga attorneys Benjamin F. Thomas and Joseph B. Whitehead for the exclusive rights to bottle the beverage throughout most of the United States.  Chattanooga Attorney John Lupton soon became the third business partner to help finance the first bottling plant at 17 Market Street. Candler was convinced the company was doomed to fail and sold the bottling rights for $1. He later went on to sell the company in 1919 and turned to real estate development. Today, it is a publicly traded company on the New York Stock Exchange (symbol KO) with $10.49 billion in annual revenue.
Just as Americans fell in love with the refreshing beverage, they have treasured vintage Coca-Cola memorabilia for as long as the iconic soda has been sold. Chattanooga's deep roots in the brand has resulted in an abundance of Coca-Cola memorabilia up for grabs at estate sales, auctions, and even yard sales. 
The first hand-painted oilcloth sign for Coca-Cola appeared on store awnings in 1886, and today signage remains highly sought after. While rare bottles are at the top of the list for collectors, there are other sought after collectibles to keep in mind while treasure hunting.  This week we will explore some of the early collectibles and expand our focus next week.
Bottles: Vintage bottles are not necessarily valuable as the company mass produced millions of them. There are a few rare exceptions; those mostly include limited-edition bottles made to celebrate occasions. For example, a Chinese Coca-Cola bottle made in 1992 to celebrate the opening of the first McDonalds in China fetched $1,500. A bottle made to celebrate the 1988 Olympics in Seoul, South Korea, sold for $2,500 in 2021. A Dallas Cowboys special anniversary edition bottle sold for $5,000. One exception to rarity is the straight sided Hutchinson bottle. It was produced in 1900 for seven years and has the brand's name embossed on the bottle. Today, a 1900s Hutchinson bottle is listed on eBay for $633, while one with a misspelling is listed for $7,500.
Trays, posters and calendars: During the early years, promotions for the brand included serving trays, posters and calendars. Decorative tin serving trays typically featured a young woman in an idyllic scene enjoying a beverage. Trays from the 1930s-1940s are listing from $195 to $350, with a 1940s Mexican tray listing for $2,000 on icollect247. One way to identify an authentic tray from a reproduction is to look at the back. Authentic trays will alway have a black back while reproductions will have white, yellow or other colors. Also, in original trays, the tail of the "C" in "Coca" will have a trademark notation.
Which design period transcended the spectrum of the visual arts - architecture, painting, sculpture and furniture - and is enjoying a resurgence? Art Deco.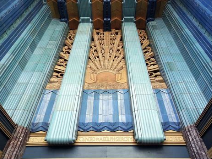 This sleek, glamorous design period has once again become popular among vintage collectors some 100 years after its birth.
When was the Art Deco period? Art Deco, short for arts
décoratifs,
originated in France in the mid-to-late 1910s, and was introduced at the
Exposition Internationale des Arts Décoratifs et Industriels Modernes
held in Paris in 1925, and developed into a major style in Europe and the United States during the 1930s. It fell out of style during World War II when Americans entered a period of austerity,  yet enjoyed a revival in the late 1960s, and today is ripe for a full-scale revival.
How can you identify Art Deco? This design period took flight during the advent of large scale manufacturing. Artists and designers wanted to infuse uniqueness and originality into commonplace mass-produced items from clocks to cars and even ash trays; a true high-style attainable by the everyday person. This was a departure from Art Nouveau, which was characterized by lavish designs made for the wealthy.  
Notable examples of Art Deco architecture include the Chrysler Building and the Empire State Building.
Art Deco design is characterized by the repetitive use of lines and
triangular, zigzagged, trapezoidal, and chevron-patterned forms. You may recognize the signature fan shape often used.
Ornamentation is stylized and represents human forms and naturalized forms such as  animals, sunrays, and florals. It often combines man-made materials such as plastics, Bakelite, chrome, and vita-glass with natural materials like jade, silver, ivory, and mother-of-pearl. 
Art Deco furniture is often constructed of more than one type of wood with exotic woods such as Macassar ebony, Zebra wood and rosewood for ornamentation; it is often lacquered for a high-gloss finish. 
While vintage 1920s Art Deco French-designed vanities retail for more than $25,000, there are affordable American-designed examples in the $1,200 to $1,500 range. Beautiful waterfall-style dressers retail for $850 to $1,500. 
Art Deco is a timeless, iconic aesthetic design that will add a chic, glamorous sophistication to  your home. If you are just beginning your collection, you will find examples of antiques and budget-friendly adaptations in furniture, artwork, and many household items.  If you would like to learn more, visit the Art Deco Society website at www.artdeco.org.
Whether you're a brother or whether you're a mother




You're stayin' alive, stayin' alive




Feel the city breakin' and everybody shakin'




And we're stayin' alive, stayin' alive




Ah, ha, ha, ha, stayin' alive, stayin' alive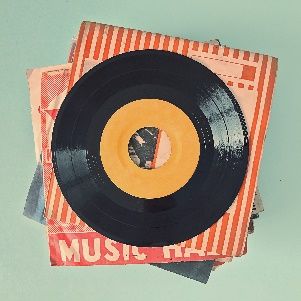 Who doesn't remember that iconic 1977 song by the Bee Gees? I'll bet you have a favorite memory of dancing with friends to that tune or another one by your favorite artist. For me, it was Davenport, Iowa and Uncle Sams, when I was 21 and my best gal pals and I danced the night away. 
Those memories are just one of the reasons that vintage vinyl records are today's top collectible. Most people start their collection with interest in one particular artist, and become hooked after they discover the unbelievable purity of sound and ambiance a good quality vinyl can produce. Not to mention the record sleeve artwork, some of which is highly sought after without the album inside. 
If you're just beginning to collect, here are the basics. Vinyl records come in three speeds:
33 1/3 rpm (often just called a "33"), 45 rpm and 78 rpm. The "rpm" is an abbreviation for "revolutions per minute" — an indication of how fast the record is meant to spin on the turntable. Today, you will mostly find 33s and 45s as the 78s were largely phased out in the 1950s. Records also come in three sizes: 7-inch, 10-inch, and 12-inch. The size determines how long the groove can be and thus, the length of playing time. You may be most familiar with the 12-inch album with multiple songs, while the smaller 7-inch 45 is usually a single song on both sides. Seven inch 45s were popular from about 1949 to 1989.
What to look for when record hunting:
Rock and Roll and R&B 45s and EPs (extended play) with picture sleeves that were first pressings. First pressings are referred to as originals and were made when the record first hit the charts. Most 45s were issued in plain sleeves, yet first releases often included a printed sleeve that included the name of the song and artist and a picture of the artist. These were intended to boost sales and were often discontinued when sales ramped up, making them now limited editions. According to rarerecords.net, "Street Fighting Man" by the Rolling Stones, which was withdrawn prior to release, can sell for more than $10,000.

The first or early releases by a famous artist are generally more valuable than releases later in his/her career, especially if it took time to become famous. 

An autograph by the artist boosts the value, but if it is inscribed "To" with a name, that decreases value.

Chronological age of the record is not as important. One may think that because a record is 60 years old, it must be valuable, but that is not necessarily a determining factor. The prime factor is interest in the artist.

Artists in the rock, blues, jazz, classical and soul categories are the most sought after, especially those with a lifelong following such as Elvis, The Beatles, Pink Floyd, and blues artist Robert Johnson. 

Scarcity also plays a role. Records that sold millions and are common are going to be less valuable than those that sold poorly and are difficult to locate (think early career release). Keep in mind that records that sold millions and were played frequently make it harder to find one in near mint condition.

Promotional versions generally command higher value due to scarcity. Promotional versions were pressed and sent to radio stations and retailers. They generally have a white label with the words, "Promotion Copy Not for Sale."

Condition is very important. Use a light (cell flashlight works great) to look for scratches that would affect play. Condition of the picture sleeve matters too so avoid those with damage to the artwork. There is a huge premium if you can find one that is sealed in its original wrapping. (However, it wasn't until the early 1960s that retailers began sealing albums in plastic bags, with record labels soon following by shrink wrapping.
Top 5 selling albums:
Thriller - Michael Jackson. A signed first pressing retails for $10,00 and up.

Bat Out of Hell - Meat Loaf. A vintage 1977 autographed album retails for $500+.

Back in Black - AC/DC - A 1980 autographed album retails for $2400+.

The Dark Side of the Moon - Pink Floyd - A 1973 sealed album retails for $1,000+

Their Greatest Hits - Eagles - A 1975 first pressing retails for $400+
Some good resources to begin your journey: popsike.com, discogs.com, and iguide.net.
"Art washes away from the soul the dust of everyday life" - Pablo Picasso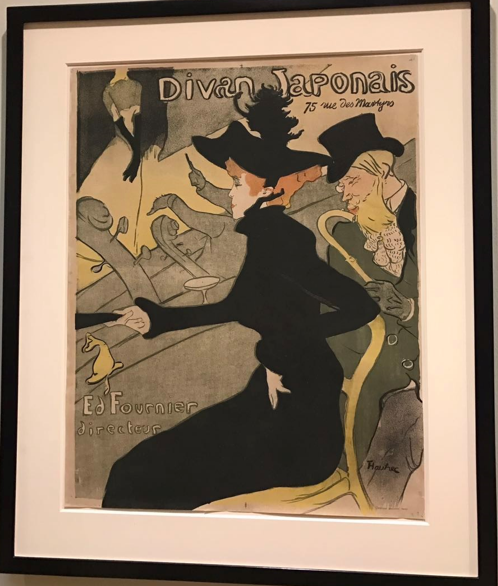 A home filled with art tells a story about its inhabitants. My grandmother was an artist who was well known in the Central Illinois region, and she cultivated my eye for art in all forms. Our home is filled with art that tells a story. The painting of a young girl with a bouquet of sunflowers we found in Austin, Texas; a hidden treasure we found at a very small, decrepit house in Soddy Daisy for $60 that is valued at $1,800; a serigraph of a riverboat that has our old house in the background from Davenport, Iowa.
Buying artwork can be confusing. You may hear terms like lithograph, serigraph, Giclee, oil, acrylic, watercolor, and print, and wonder what's the difference and which is higher valued? 
When browsing many vintage stores, you will see sellers use the term "print" quite frequently. But not all prints are equal.  Printmaking is a process to recreate an original piece most commonly on paper, yet there is a range of techniques associated with printmaking, including engraving, etching, woodcut, lithography, and serigraphy.
Lithography
is an ancient practice invented in 1796 and is said to most closely mimic a painting. Lithograph comes from the Greek terms lithos, meaning stone, and graphos, meaning writing. To create, the artist uses materials like litho crayons or specialized greasy pencils to draw the image directly onto the printing element such as a metal plate or stone. The surface is treated with a chemical etch to bond the drawing and water is wiped onto the unpainted areas to keep the ink from smearing. Once the image is inked, paper is placed over the image and passed through a scraper bar. When the paper is pulled away, it reveals a perfect replica.
An offset lithograph, on the other hand, is a photographic process using a negative and a system in which the ink is transferred from the plate to the paper by means of a
rubber
plate or cylinder, rather than by direct contact of the two. This technique keeps the paper dry and allows a high speed fully automated operation. This is what most people refer to as a "print."
How to spot: 
Inspect with a magnifying glass. Offset lithographs will have a dotted circular pattern in rows. A lithograph created by hand will have random ink dotting or discoloration.

Look for thickness of the ink. A hand made lithograph will have ink that is slightly raised while an offset lithograph will be flat.

Look for discolorations. An offset lithograph can have discoloration in the non printed area that is attributed to a chemical reaction to the aluminum plate used in the printing process.

Hand made lithographs will typically have a signature on the back, while an off-set will not.
Serigraphy
has been used for some 100 years but really came into its own in the 1960s when pop artists such as Andy Warhol used it to create vibrant art. It is a term for silkscreen or screenprinting that involves stretching silk or fabric on a frame and covering portions of the material with a coating of shellac or glue. The exposed silk becomes the design through which ink or paint is pressed using a squeegee or brush to create the artwork. A stencil can also be used. 
In serigraph printing,a design can be transferred from the original to paper using a special reproductive camera and a process whereby the separate colors are printed individually one after the other until the painting is completed, a process that can take weeks to months. Serigraph prints are generally limited editions.
How to spot:
A hand pulled serigraph will have a layering of colors on top of one another and sometimes the colors overlap.

It will have a high degree of color saturation and density.

You will see large areas of flat, smooth colors and not a dot pattern.

A fine art serigraph print will have a limited distribution.
Which is more valuable? While this is a tricky question as it often depends on the prominence of the artist. A handmade lithograph is generally more valuable than a serigraph. Serigraphs are sought after for their quality and vibrancy and are more valuable than a limited edition offset lithograph. An offset lithograph is the least expensive as it is mass produced. Exceptions include limited editions and those with a second penciled signature by the artist. 
A word of caution as you begin your collection, some sellers do not distinguish between lithograph, offset lithograph and serigraph. You will want to inspect the piece using a magnifying glass.
Join us next week as we demystify painting terminology such as Giclee, acrylic, oil, and watercolor.
In the world of art, some say the

giclée

(ZHēˈklā) technique is C'est magnifique!

...and others might think it is a trompe l'oeil or a trick of the eye, an illusion. That's because this technique has grown in sophistication, with many artists hand-brushing details to add texture to the print.
What is a
giclée
? It has been around as long as ink jet printers. The process was invented in the late 1980s using an IRIS printer - the predecessor to inkjet - and the term was coined in 1991 by printmaker Jack Duganne for fine art digital prints made using inkjet printers. It is derived from the French word "gicleur", meaning jet (of water). 
In the creation of artwork, large format inkjet printers use small spraying devices to apply perfectly color-matched ink precisely. The ink is highly pigmented, so it is more of a dye than actual ink. The result is a high-quality print of the original artwork. Initially, a
giclée
was produced on archival quality paper, and then the process expanded to canvas and other materials. Today, 65 percent of art galleries sell
giclées.
How to spot a giclée print:
Look at the canvas carefully. Does it look like the paint has seeped into the canvas or does it appear to lay on top? If it lays on top and there appear to be layers of paint, it is likely an original. 

Examine the edges. An original painting will have rough and uneven paint edges, with splotches and smudges. An even paint edge is produced by a mechanical process.

When printed on lower quality paper, a giclée print can appear to be "flat" especially if the printer used a less expensive ink. This would be similar in quality to a poster.
Fine art giclée prints use a higher quality paper and inks, so the resolution will be crisp and vibrant. It is especially effective in capturing original watercolors.
Some giclée prints are numbered and signed by the artist and offer a certificate of authenticity.
Giclée prints on canvas are typically gallery wrapped, meaning the canvas fabric is stretched over the frame and completely covers the stretcher bars.
It is common for a giclée print on canvas to retail for one-third of the cost of the original painting. That price may be higher if it is a numbered limited edition or if the artist has enhanced the print by hand-brushing details. To add texture to the print, the artist will coat the print with a clear gel and then paint with the same brushstrokes to enhance certain features. While this is not a common process, it typically commands a higher price for the print.
A
giclée
is typically more valuable than an offset lithograph due to the high-quality inks used in the process, which extend the vibrant life of the print. However, the value of the art is closely linked to the prominence of the artist.
A fine art giclée allows one to affordably invest in a piece of art from a favorite artist while simultaneously providing the artist with an opportunity to offer a lower price point to customers while upholding the quality of his or her work.
It's no secret that I love art.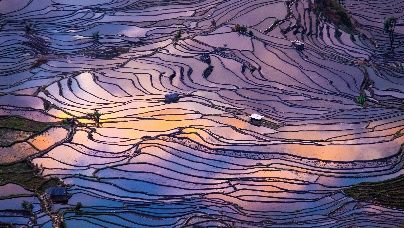 I was the granddaughter of an artist, and I could not paint a stick figure. Each summer she held outdoor classes for all of her grandchildren, and I was the outlier. So much so that she told me she would teach me, instead, how to appreciate art.  In today's blog, let's explore the most popular art today for interior design.
According to a recent survey of interior designers by 1st Dibs, the most popular art styles in 2022 are expected to be abstract (the only style to win the clear majority at 54%), followed by contemporary (48%) and modern (42%). 
Sotheby's auction house, in its 2021 annual report, indicated that its volume of art transactions increased by two-thirds, reaching a new high.  Modern and Contemporary art led the way with $4.3 billion in sales. The sales of Old Masters were still strong, and reached a decade high.
Designers are seeing a significant rise in the percent of projects (61%) where the client has requested a plan for sourced artwork. The most desired are drawings, paintings, photographs and prints, with sculpture rising in importance.
Designers are getting requests for more artwork throughout the home. Art is no longer confined to the living room and dining room, but is being placed in unexpected spaces like the kitchen or small hallways. This is one aftereffect of the COVID pandemic. After sheltering in place for so many months, people are weary of looking at white walls and want an art collection that is a reflection of their experiences, culture, and aesthetics.
When you hear "farmhouse style," do you immediately think of shiplap and Chip and Joanna Gaines?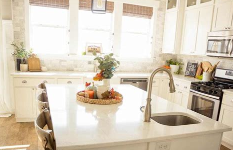 Their wildly popular style is a sub-genre of farmhouse style referred to as modern farmhouse. There is a rustic aesthetic with an enduring allure that doesn't call for shiplap or barn-style doors that is known as vintage farmhouse.
The earliest American farmhouse was built by early colonial families in the 1700s. Early American farmhouses produced harsh living conditions with no running water or electricity. Farmers relied on kerosene lanterns for light, water was carried in pails from a well, and women cooked on wood burning stoves. The 1930s ushered in a new era for farm life as the government began connecting rural farmers to the electrical grid, supplying farmers with electricity for lights and water pumps, which brought water into the house. This was a huge step forward in farmhouse design.
Vintage farmhouse pays homage to early American farm life and creates a warm and welcoming environment where your tastes, experiences and history are represented. The decor often reflects a traditional farmhouse time period with a mix and match of time periods reflective of your love of vintage items. It is creating a balance with unique cultivated items and not going overboard with one element such as pigs and cows. 
Vintage farmhouses incorporate natural wood, chippy painted furniture, warm neutrals, and decor elements reminiscent of farm days gone by. Colors are generally muted with sage, aqua and yellow for coziness.
Some must-haves for vintage farmhouse decor:
Natural Textiles. Farmhouse linens were made with natural materials such as linen, cotton and flax, and carried simple designs such as a red or blue stripe. 

Windmills. The American-style windmill, developed in 1854, was used to pump water from the ground to irrigate crops and provide water for livestock. They largely disappeared after the electrification of farmland in the 1930s and many were sold to developing nations in the 1960s. While you may not find an authentic windmill for your yard, windmill heads make great wall decor.

Ironstone. This creamy white tableware is not porcelain, but a porous earthenware made of clay mixed with feldspar. Patented in England in 1813, it became popular in America in the 1870s and 1880s under the name graniteware. It's heft made it resilient for everyday use, but due to its age and material, it is common for pieces to have crazing and stains. Try to avoid those with chips and flea bites.

Old painted portraits or landscapes. Vintage original oil paintings reflective of farm life and portraits of the unique characters who lived off the land lend an authentic country vibe to your decor. 

Vintage accessories. Cast iron door stops, flower frogs, old kitchen scales, and a display of vintage rolling pins, all add to the authenticity of vintage farmhouse decor.
Did you know that milk glass was once considered the poor man's porcelain?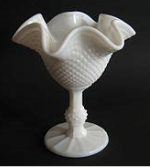 Today, it is widely collected for its versatility. It fits beautifully into a home filled with antiques, and easily complements cottage style and farmhouse style decor. 
Venetian glass makers originated this glass in the 16th century and called it opal glass. 
Glass makers added ingredients such as bone ash, arsenic, or tin oxide to give the glass its opacity
.
What we know as milk glass is thought to have been first used by 19th century Victorians, who loved its silky, porcelain-like appearance. Porcelain was expensive and usually purchased by the wealthiest of society, which contributed to the growth of milk glass among the less wealthy. Over the years, milk glass has been on a roller coaster ride with collectors, but its beauty endures due to its ability to fit into any decor. Since 2020, this beautiful glass is enjoying another resurgence in interest.
If you are beginning your collection, here are some tips to keep in mind.
Milk glass can be white, light blue, black or pink.
Notable American milk glass creators were Westmoreland  - first to begin making milk glass in the 1920s; Fenton and Anchor Hocking - began in the 1940s; and the Indiana Glass Glass Company - started making milk glass in the 1950s.
There are many fakes in this space. Authentic milk glass can be determined by several methods:

Lightly scratch the piece to determine if the color was painted on. Authentic milk glass is not painted but is opaque, with a silky smooth and not grainy texture.

Hold the piece up to the light. You should be able to see the light as milk glass is translucent. If you cannot see the light, it is likely a fake. An antique piece (1960s or earlier), will have a halo of iridescent reds, greens and blues, otherwise known as the "Ring of Fire."

Milk glass made during the depression will have a translucent look. Pieces made in the 19th century will be a deep white, while those made at the end of the 19th century had a dull appearance.  

Pieces made in the 1970s and 1980s will have a bright, shiny look. 

Put pieces of milk glass side by side. Fakes will often have a yellow undertone.

Look carefully at the pattern. Look for raised bumps (called hobnails), grapes, leaves, birds or other ornate patterns. Milk glass was typically made for decorative and not utilitarian uses.

Is the trim symmetrical? Are the hobnails all evenly spaced and well-formed? Fakes often have trim that is not even and misshapen hobnails. Is the pattern correctly repeating? Fakes will have patterns that are off and not symmetrical.
Look for maker's marks on the underside of the piece. 

Westmoreland - noted for fruits, birds, and floral designs - will have a "W" superimposed with a "G" and some pieces had stickers. If the "G" overlays the "W", it was most likely made before 1980.

Fenton has an "F" or "Fenton" engraved on the inside of an oval. Beginning in 1980, Fenton added a number to indicate the decade, such as 8 for 1980.

Anchor Hocking has used three marks. The original "HG over Co" was used from 1905 until 1937, the "anchor over H" used from 1937 until 1968, and the "anchor in the square" mark began in 1968.

Unfortunately most Indiana Glass Company items made before World War II have no marks. In later years, foil labels were used that were often removed. Identification can be made by researching collector's clubs.
Should you wish to learn more about milk glass, you may want to join the National Milk Glass Collectors Society at nmgcs.org 
Antique Christmas ornaments.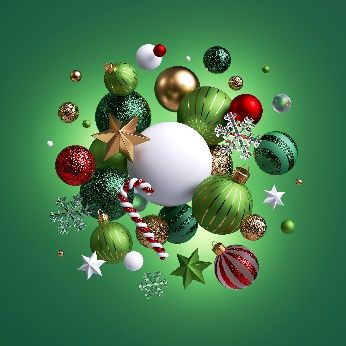 Often hand-made of blown glass or beaded, vintage ornaments add a unique flair to your tree that sets it apart from the monotone newer sets. You can spot older ornaments by first looking at the glass. Older ornaments were made of mercury glass, a thinner glass that is silvered on the inside. There will be variation in the shape of each one and the painting may not be uniform as these were made by hand. Even the glitter is not uniformly applied and may have clumping. If hand blown, you may see the pontil marks. The ornament cap will be simple and made of thick metal, plaster or even paper. Some of the most valuable ornaments:
German Kugel Mercury Glass. A fluted, round or berry-shaped silver ornament popular in the 1900s. Rare examples in silver sell for $300-$400, while rare amethyst or ruby examples are priced upwards of $1,200.
Shiny Brite started in 1937 and went out of business in 1962. The company took unadorned glass bulbs supplied by the Corning Company and hand decorated and machine lacquered them in their own factories. The name came about as the bulbs were coated with a silver nitrate to give them an extra shiny look. They came in a large variety of colors including classic red and green, purples, pinks and icy blues. The colors could be solid or patterned. They also came in a large variety of shapes including balls, tear drops, icicles, finials and pine cones. Bulbs made prior to WWII had a metal cap and hook. During the war, they switched to a cardboard tab to use in drawing a string through to hang; and after the war ended in 1945, a crinkled metal cap was used that was stamped with "Shiny Brite" "Made in the USA."  Individual ornaments retail for $9; a box of simple teardrop ornaments is selling for $100-$200; and a box of 12 double indents priced at $300.
Hallmark has been producing Keepsake ornaments for 49 years and many are quite valuable. Notable examples include the classic National Lampoon's Christmas Vacation Cousin Eddie's RV ornament retailing for $500; the 2005 Beauty of Birds signed ornament selling for $398; and the 1979 Ambassador Twirl About Santa priced at $495. Barbie and Star Trek, along with Disney characters remain highly sought after and very collectible.
Antique Christmas ornaments.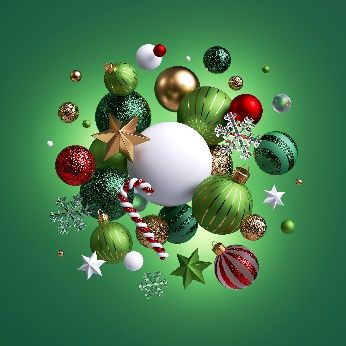 Often hand-made of blown glass or beaded, vintage ornaments add a unique flair to your tree that sets it apart from the monotone newer sets. You can spot older ornaments by first looking at the glass. Older ornaments were made of mercury glass, a thinner glass that is silvered on the inside. There will be variation in the shape of each one and the painting may not be uniform as these were made by hand. Even the glitter is not uniformly applied and may have clumping. If hand blown, you may see the pontil marks. The ornament cap will be simple and made of thick metal, plaster or even paper. Some of the most valuable ornaments:
German Kugel Mercury Glass. A fluted, round or berry-shaped silver ornament popular in the 1900s. Rare examples in silver sell for $300-$400, while rare amethyst or ruby examples are priced upwards of $1,200.
Shiny Brite started in 1937 and went out of business in 1962. The company took unadorned glass bulbs supplied by the Corning Company and hand decorated and machine lacquered them in their own factories. The name came about as the bulbs were coated with a silver nitrate to give them an extra shiny look. They came in a large variety of colors including classic red and green, purples, pinks and icy blues. The colors could be solid or patterned. They also came in a large variety of shapes including balls, tear drops, icicles, finials and pine cones. Bulbs made prior to WWII had a metal cap and hook. During the war, they switched to a cardboard tab to use in drawing a string through to hang; and after the war ended in 1945, a crinkled metal cap was used that was stamped with "Shiny Brite" "Made in the USA."  Individual ornaments retail for $9; a box of simple teardrop ornaments is selling for $100-$200; and a box of 12 double indents priced at $300.
Hallmark has been producing Keepsake ornaments for 49 years and many are quite valuable. Notable examples include the classic National Lampoon's Christmas Vacation Cousin Eddie's RV ornament retailing for $500; the 2005 Beauty of Birds signed ornament selling for $398; and the 1979 Ambassador Twirl About Santa priced at $495. Barbie and Star Trek, along with Disney characters remain highly sought after and very collectible.
Antique Glass and Ceramic Christmas Tree.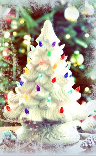 The trees were made to be table displays and often came in two pieces. It is hard to find the tree and base together, yet even the tree alone remains highly collectible. The 17 to 22" tall ceramic trees in white or green had little glass lights, making for a colorful display. A vintage Atlantic Mold tree from the 1970s with the base retails for $350.
If you love Mid-Century Modern and Art Deco, Hollywood Regency may be the perfect vibe for your home.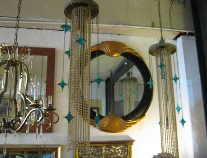 What is Hollywood Regency interior design? As the name implies, the genesis of this style is the glitz and glamor of Hollywood's golden age. Emanating from California in the 1930s, Hollywood Regency style is similar to Art Deco, only more ornamented and opulent. It replicated the opulent and luxurious interior design of famous actors and movie directors. What Mid-Century Modern is to minimalism, Hollywood Regency is to maximalism. 
Hollywood Regency began in the film studio, when over-the-top sets were designed that would project opulence and vibrancy on the big screen. This was due to the limited use of color in films. Black and white films were the standard in the 1920s and it wasn't until 1934 that a three-color film process was introduced into movie making. The process was expensive and theaters had to rent special projectors to show movies filmed with this process, so filmmakers reserved color for the most prestigious features. Audiences would have to wait until the late 1950s for most Hollywood productions to be shot in color.
Actors and movie directors fell in love with the theatrical, over-the-top glitzy and lavish decor and replicated it in a desire for their home to reflect their unique personality and taste. This was a time when actors welcomed the media into their private residence for interviews and photographs that were shared with fans to foster the mystique and glamor of Hollywood life. The Hollywood Regency interior design style period was prominent through the 1950s.
Some must-haves for Hollywood Regency style:
Rich jewel tones of hot pink, yellow, gold, emerald green, or turquoise along with textured fabrics such as fur, silk, suede, and velvet. When replicating this eclectic style, bright accent colors can be tempered with a neutral wall color and black and white photography or checkerboard floors.
While the emphasis was less on furniture and more on accents, think eye-catching Rococo inspired furniture, including gracefully curved velvet upholstered armchairs and slipper chairs.

 
Mirrored and metallic accents such as mirrored chests, gold bar carts with mirrored shelves, chairs trimmed in gold metal.
Lacquered furniture with a high gloss finish and gold accents or lacquered accent pieces like serving trays.
Starburst or sputnik wall decorations and chandeliers.
Decor accents like pillows featuring palm fronds or bamboo. Designer Dorothy Draper was credited with this trend as she sought to bring tropical paradise into the home.
Animal prints such as elephant, cheetah, and ram motifs on rugs.
Italian pottery and even table lamps in the shape of swans, leopards, lions and even zebras.
Chinoiserie, a design element that imitates the style of China, Japan, and other Asian countries, to add exoticism to screens, wall coverings, or fabrics. 
I'm a fool for you…cobalt blue.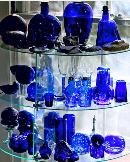 This extraordinary pigment of pure blue color was discovered in 1807, and its prominence came later in the century as processes to create a stable color were refined. Cobalt is produced when glassmakers introduce cobalt oxide smalt or copper oxide to molten glass. The ore was mined primarily in Africa, USSR, Australia and Canada. 
Cobalt was such an enchanting color that Vincent van Gogh declared to his brother Teo, 'Cobalt [blue] is a divine colour and there is nothing so beautiful for putting atmosphere around things…"  Today's interior designers agree, as a recent survey of 750 designers conducted by 1st Dibs declared that cobalt blue is the top trending color for 2022. 
Let's talk all things vintage cobalt!  Collectors of vintage cobalt have a variety of items from which to select as companies in Europe and the United States used cobalt glass for everyday products from Vicks ointment to liquid medicines and wine bottles. Many collectibles are affordable and can be used to create unique displays, to serve as apothecary jars, or to sit on windowsills. 
While not all cobalt glass is Depression Glass, at the turn of the 20th Century, there were 20 American producers of Depression Glass, some of which was made in cobalt. Those early American producers of cobalt, and the most sought after patterns include:
Hazel Atlas Glass Company 

Moderntone - known for the bands circling the outer edges and an Art Deco Flair. A set of six 9" dinner plates retails for $50 while a set of 5 double handed soup bowls retail for $50.

Ritz Blue Chevron - "Ritz Blue" was a name given by Hazel Atlas to generate a high perceived value of this glassware with a chevron pattern. A sugar and creamer set retails for $25 while a milk pitcher sells for $30.

Aurora - made in the 1940s primarily as a snack set with limited pieces for breakfast and lunch sets. Hard to find due to the limited release. Nine ounce tumblers retail for $21 to $29 each while a 4.5" deep bowl retails for $39.

Royal Lace - graced with a frilly design and made in 1934 to 1941, this was a full service dinnerware set. It is the most expensive and sought after. A set of four 12 ounce tumblers retail for $250, a 64-ounce pitcher sells for $450, and a cookie jar with lid retails for $325.
Hocking Glass Company - manufactured from 1905 until 1937 when it became Anchor Hocking.

Shirley Temple child's mug - Produced in cobalt with a white image of the child actress from the 1930s to the 1950 and given free as a promotional item in grocery stores. A child's mug retails for $7.50 to $15.

Kitchenware produced included mixing bowls, a two quart casserole retails for $40-$70, a Mayfield pattern biscuit jar sells for $25, and a 13x9" casserole retails for $25.
Fenton Glass Company

Eggs, slippers and baskets - produced in the 1940s and 1950s. An egg on stand retails from $45 to $125 while a scalloped bride's basket retails for $110. Slippers are priced at $25 to $55.

Carnival glass - first produced in 1908 until early 1930s. The cobalt blue funeral vases are the priciest, selling for $750 to $1,100, while the orange tree pattern cobalt blue footed dishes retail for $250 to $300.
Cobalt blue jars and containers

A vintage Noxzema small jar sells for $9 while an original shaving cream jar retails for $99

A canister set with wire bail retails for $45 to $79.
How to spot authentic cobalt glass:
Older glass will have small bubbles in the glass.

Look for imperfections in the molding or pontil marks for blown glass.

Colors will be inconsistent throughout the piece.
"History is not the past but a map of the past, drawn from a particular point of view, to be useful to the modern traveler."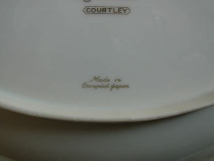 Henry Glassie, historian.  As a lover of vintage and antique art, furniture, and decorative items, this quote may speak to your soul. Each piece you collect has a history, a prior life that makes it truly one–of-a-kind. 
Have you seen a stamp on pottery, a lamp, tea set, figurine, china, metal toys, or trinkets that are stamped "Made in Occupied Japan" and wondered about its origin? Let's explore the history behind Made in Occupied Japan and discuss values.
The "Occupied" refers to the American occupation of Japan after World War II and from 1945 to 1952.  After the war, the Allied Powers were intent to make sure Japan would never return to battle again and favored a dismantling of the military. The American government, under the guidance of General Douglas MacArthur, believed that only a democratic society would be peace loving. He was appointed as Supreme Command of Allied Powers and led the Allies to work with the Japanese to bring about tremendous political and economic change. 
In the early years, a new constitution was drafted and sovereignty returned to the people.  From late 1947 until 1950, the economic revitalization of Japan became the primary focus due to a concern that a weak Japanese economy would foster a rise in the domestic communism movement. One initiative addressed the shortage of raw materials for manufacturers to produce goods as American forces pledged to help rebuild the ceramics industry. This aided the Japanese in producing goods to be shipped and sold abroad, which helped to infuse the economy with much needed cash. Items produced in Japan during this time period and shipped abroad are generally marked "Made in Occupied Japan." As an aside, items manufactured before 1945 may be marked "Nippon" and those after 1952 may simply have "Japan" stamped or a foil label with "Japan."
Are these items valuable? Just like everything in the world of antiques and collectibles, there is a time and a season. Many items were cheaply produced and designed to copy sought after brands such as Hummel or Royal Daulton yet they had a charm all their own and a loyal following of collectors until the 1980s. A new generation with distinctly different decorating styles, a fading memory of the meaning behind  "Occupied Japan," and the political incorrectness of some of the imagery meant declining interest and values. 
Thanks in large part to the Grand Millennials and nostalgia for cherished items they remember from grandmother's house, there has been a resurgence in interest in Made in Occupied Japan items, particularly metal toys and china.
Figurines are selling in the $7 to $12 range. There is strong interest in tin wind up toys with a wind-up celluloid and tin dog chase toy selling for $225, a tin helicopter selling for $159, an Indian chief on horse for $83, and other working tin toys selling above $60.
Multiple child's tea sets have been sold on eBay in the last month, with complete sets ranging from $26 to $49. 
It is difficult to find a complete fine china dinner set and those listed are selling well. A 69-piece set of Kingsley Narumi sold last month for $260 while a 91-piece set of Meito Price Royal Marquis sold for $350. A four-place setting set of Iris Ucago sold for $270.
Due to the number of soldiers in Japan at the time and the popularity of smoking, ashtrays and lighters were produced in quantity. Today, a table lighter is selling in the $10-$14 range, while ashtrays have sold from $6 to $50 with the most interest in those with unique characters such as a clown with a bee on its nose.
As fall decor featuring cute Pilgrims fills Edith's Emporium, one can't help but reflect on the influence of those early settlers on Early American decor.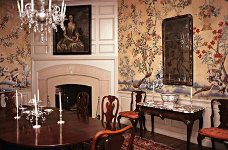 What is Early American interior design style? As the name implies, the genesis of this style is the primitive and utilitarian decor of the American Colonists in the 1600s.
According to historians, One hundred Pilgrims fleeing the Church of England and British Colonies arrived on the Mayflower near Cape Cod in November 1620 and by December had migrated to Plymouth Harbor, where they formed the first permanent settlers of Europeans in New England. As an aside, the Mayflower's original destination was Virginia, but rough seas and storms changed its course. Among this group were 35 Puritans known as the English Separatist Group, which also broke from the Church of England due to religious persecution. Pilgrims and Puritans are often confused as they arrived on the same vessel.
The migration of Europeans continued throughout the early 17th Century to New England, Massachusetts and Connecticut, igniting an era of settler colonization. By the 18th Century, cities such as Charleston, South Carolina; Philadelphia, Pennsylvania; New York, New York; and Boston, Massachusetts had become population hot spots. 
Primitive furniture made by hand by these early settlers, between 1640 and 1700, set the tone for Early American decor. While the early years were defined by Medieval and Renaissance styles of their homeland, by the late 17th Century, a William and Mary style rose in prominence among the more wealthy settlers who could afford to have furniture made by craftsmen. This style was distinctly American with slight European influences.
Some must-haves for Early American  decor:
Furniture made of pine, birch, cherry, maple or oak. The early pieces had European influence and were large with carvings such as flowers and leaves, crescents, scrolls, raised panels, finials, and woodturning. Because these were handmade, the designs were more primitive.
Wooden chests were in demand for storage and for portability, as were cupboards and narrow harvest/dining tables with Windsor chairs.
Interior walls featuring cream, mustard, or gray-blue paint. Beadboard or wainscoting and chair rails with a design above the rail featuring pineapples (a symbol of welcome) or willow trees (a symbol of strength and devotion). Wide-plank wood flooring - most often pine - with hand-braided area rugs for interest.
Light fixtures with punched tin, wood or iron. Tin wall sconces with candles made from beeswax.
Crocks, wooden bowls and baskets used in new ways. Crocks can hold kitchen utensils or rolling pins; wooden bowls used to hold a display of apples or balls of yarn; and baskets for towels, magazines, and even wood for the fireplace.
Fireplaces with iron pots hanging on cranes or an iron teapot on a trammel hook.
In the Colonial home, there was a distinct lack of clutter or decor on the walls. Objects were designed to serve a purpose as well as be decorative. In designing your Early American theme, keep in mind that less is more.
In today's market, an authentic 18th Century table chair is selling for $4,370, while a mid-18th Century signed Colonial Chest is listed for $7,250 and a blanket chest is listed for $1,500. On e-Bay a walnut and punched tin pie safe sold recently for $1,870, a bread trough bowl for $99, a maple butter paddle for $55, and a wrought iron trivet for $400. 
"I've been called to speak to the brass; He's reaching for the brass ring; Here comes the brass band!"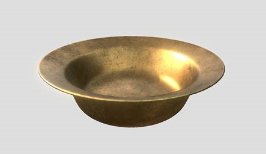 References to brass as being the pinnacle of leadership and life abound in society. In the world of antiquities, brass is an enduring alloy that has adapted to every design era since it was first refined in America for production in 1832.
Thanks to the surge in interest in Mid-Century Modern furniture and decor - an era when brass enjoyed popularity - along with a trend toward warmer interior colors and natural medium brown wood, brass has captured the interest of a new generation. Let's talk all things brass.
Brass is a metal alloy that is composed of 90 percent copper and 10 percent zinc, with metals such as lead, tin, iron, aluminum, silicon, and manganese in small amounts to produce unique characteristics. Brass is resistant to corrosion and cannot rust. Its composition makes it a sturdy metal that does not break.
Brass is often confused with bronze, which is composed of copper and tin with nickel, phosphorus or aluminum sometimes added.  Brass will have a warm golden tone while bronze will have a reddish brown tone.
Brass has a luxurious sheen that adds warmth and sophistication to interiors designed with warmer colors. Since COVID-19 prompted families to spend more time at home, we are seeing a trend toward warmer colors such as greige and beige, along with blue and green, a perfect backdrop for brass.
There are several types of brass:
Polished brass has a cool, bright gold tone and it has a lacquered finish that serves as a protective coating. It ensures the brass will remain bright and shiny and will not develop tarnish or a patina. Polished brass was very popular in the 1980s and 1990s and is still used today for cabinet and furniture hardware, lamps, and decorative trays and accessories.
Unlacquered brass has a warm golden color and will develop a patina as it ages. Patina is a green or brown film on the surface produced by oxidation over a long period of time.
Brushed brass - often called Royal brass - is a cool toned light brass color with a brush pattern.
Brass plated is a product that has steel or cast iron as its base, and then it is plated in brass. It is not solid brass. Brass plating is often used in replicas along with chemical aging products such as window cleaner to give the appearance of an antique.
How to identify antique brass:
Use a magnet. A magnet will not stick to antique brass or bronze.
If an item is brass plated and has been aged, the magnet will stick due to the underlying metal.
Unlacquered brass will have a golden undertone, but the natural patina will cause it to have imperfections such as tarnish and oxidation. Most collectors of antique brass prefer the natural patina that only comes with age. Polishing off the patina can diminish the value. Think of it as wiping away the  years. If you simply want to remove dirt, use warm water and a mild soap and gently wash, then dry immediately. Make sure you wear white gloves to avoid leaving oil from  your fingers on the finish.
Antique brass will be heavy while brass plated objects will feel lighter.
Antique brass will not have machining or mold marks or sloppy casting. Most antique brass will have a maker's mark on the bottom, back or even under the felt.
Some of the most desired brass items today include solid bookends, particularly those featuring animals and people; candlesticks, figurines, clocks, jewelry, and furniture. For beginning collectors, there are many examples of antique brass available at Edith's Emporium. We recommend shopping in person as you are beginning in order to become familiar with the look and feel of authentic antique brass, and don't forget to slip a magnet into your pocket or purse!
In today's market, we found Chieftain bookends selling for $150 on eBay, brass candlesticks for $350, a primitive bangle for $115, and an Art Deco lamp for $1,000. On Chairish, a Mid-Century Modern clock listed for $65, a brass jewelry tray for $49, and a Mid-Century Modern solid brass coffee table for $5,985. 
Oh là là! French Country design is swoonworthy.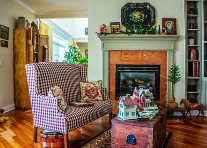 This design style marries rustic with the old-World European style of a home in the French country. It exudes elegance while giving off an aura of casual comfort. 
When was the French Country period? French Country is one of the oldest design styles as it originated in the 17th Century under the reign of Louis the XIII. What is now thought of as an elegant and refined style was developed for a financially strong middle class that was developing an interest in refined furniture yet was not wealthy enough to afford the furniture favored by aristocrats. It is rare for a design style to never go out of fashion, yet French Country has endured and is considered timeless.
What are essential elements of French Country? French Country marries rustic with the idyllic home in the French countryside, especially the Provence region. Its interior colors are light and airy with soft yellows, cornflower and baby blues, warm pinks, pale greens, and cream or a creamy white.Ceilings have hand scraped exposed beams while window treatments may have billowing silk or linen drapery. Furniture has a weathered look and is made of natural wood using woods that are local such as walnut, oak, or fruitwood, or painted, with painted furniture distressed to reflect the natural aging that occurs with use. Furniture style is less opulent than the Louis XIII-era favored by aristocrats, to reflect a simpler country style that is feminine with curves and cabriole legs. Chairs are upholstered with Toile - a traditional floral pattern - and may have an ornate element on the base or top, with must-have cabriole legs. Antique furniture fits well into a French Country style as you can choose a piece that tells a story with its imperfections. 
To complete the French Country design, embrace vintage accessories such as crystal chandeliers, elegant gold gilded mirrors, old vases filled with lavender, pillows with a floral or botanical pattern, and faded fresco-style art. 
"A room without books is as a body without a soul." – Sir John Lubbock, Lord Avebury (1834-1913)
If you are a bibliophile or someone who loves to read and collect books, you may well relate to this quote as your home is likely filled with a wondrous collection. For the rest of us, have you ever been to a friend's home with shelves upon shelves of books and wondered what makes a book collectible and worth money? Are you ready to start book collecting as a hobby or an investment? Let's dive into the world of book collecting.
Rare books have sold for hundreds or thousands of dollars. Book collecting is unique in that the value of a book does not tend to have huge peaks and valleys like many collectibles that go in and out of favor over time. Rare books tend to hold or increase in value in a linear fashion, thus making them a stable investment. Rare, old, and out-of-print books are referred to as antiquarian.
What makes a book valuable? In general, there are key elements to consider: 1) age, 2) scarcity or rarity 3) physical condition, 4) relevance as literary work, and 5) demand. 
Experts say that any book published before 1900, especially Americana, is possibly valuable. Printing came to America with the Colonists in the 1600s and spread across the country as the settlers colonized. On the other hand, there are books published in the last 20 years that are also worth money. (A Rare Air Michel Jordan autographed book sold recently for $4,500.)
Scarcity is related to how hard it is to find a copy of this book due to its age or number of copies printed. This criterion requires a bit of research to determine how many copies were printed initially and if there was any circumstance to curtail circulation such as a fire that may have destroyed the printing plates, which is what happened to Moby Dick.
First editions are most sought after and hold the most value. A first edition is the very first set of books printed for a title before any changes are made. There are two ways to tell if a book is a first edition. One is to look at the copyright page where you will find the words "first edition" or "first printing." You may also look at the line of numbers on the copyright page. If the number one is present in the line, it is usually a first edition. (You may also compare the date on the title page with the date on the copyright page; if the dates match, it is likely a first edition.) First editions are coveted because many believe it is the closest one will come to the author's intent. There may be other editions, but the author is usually most hands on during the printing of the first edition.
Limited editions are sometimes offered (often as a way to create scarcity) and those hold higher value than a first edition as they typically have an author's signature and illustrations or text unique to the limited run.
Physical condition is of highest importance. Inspect the book carefully and ensure it is free of water stains, missing or dog eared pages. The binding should be intact and the spine not broken. If the book has a personal inscription that is not from the author, such as a gift message, this writing decreases the value. For books printed after the 20th Century, the presence of a dust jacket and its condition affects hardcover book value.
Relevance refers to the significance of the topic. If the book had social significance, influenced politics, science or economics, it may have a higher value. Collectors also desire the earliest edition by a successful author. There is a special set of collectors who value books with illustrations by famous artists or photos by famous photographers.
There are online resources to help you determine the value of an old book, check the Antiquarian Booksellers' Association at abaa.org or enter "antiquarian book dealers Chattanooga" in your search engine for a listing of local resources.
A hallmark is a) a check on your child's school hall pass, b) a brand of greeting card, or c) a mark stamped on articles made of precious metals to certify their origin, purity, or maker.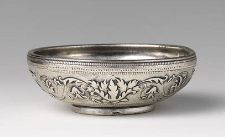 If you answered "c", you are most likely a savvy vintage shopper. While there is an entire universe of hallmarks, today let's hone  in on silver.
Silver is one of the five ancient metals, along with gold, copper, lead, and iron. The first record of its mining dates to 3,000 BCE in Anatolia, which is part of modern-day Turkey. There is no record of who actually discovered this metal.  What we do know is that silver rose in prominence when it was the first metal to be used as currency and is credited with helping to advance civilization by connecting trade between the East and the West. Up until 1965, American coins consisted of silver. That changed when President Johnson passed the American Coinage Act in response to coin and silver shortages.
The United States mines the majority of silver (56%), followed by Mexico, Peru, Chili (43% combined), China, Australia, and Russia. It remains a relatively cheap metal, when compared to Gold, due to the abundance of silver yet to be mined. 
Silver objects from jewelry to platters and tea pots are marked with one or more hallmarks. The hallmark typically indicates the purity of silver, the mark of the silversmith, and other marks to indicate specific region of origin. Hallmarks are generally found on the bottom of a piece, an inside rim, or for jewelry on a clasp or even on the hanging pendant. Oftentimes, the hallmark is obscured by tarnish.
Silver will be marked with 925, 900, 800, Sterling, SS (meaning Sterling Silver), ST, and even Silver. The most common mark for United States silver is 925, which means the piece is 92.5 percent silver. A mark of 900 means the piece is 90 percent silver and 10% copper. Silver from Columbia, Latin America, China and Germany is often marked 900.  Silver marked 800 is an alloy that is 800 parts silver and 200 parts other metals, and it is referred to as International Coin Silver. While it was used in Europe in the 19th and 20th Centuries, it was not used in jewelry in the United States. Items marked 800 are generally lower  in value than those marked 925. Sterling silver is also 92.5 percent silver.
You may come across a piece of silverware marked "coin." This Early American silver is 89.2 to 90 percent silver and due to its antiquity, is more valuable than sterling.
Silver plating occurs when a base metal such as copper or nickel is covered with a thin layer of silver.
Silver produced overseas will have additional hallmarks. For example, silver produced in Britain and Ireland will have one of five hallmarks:
A walking lion marks all sterling silver made in England

A standing lion marks all sterling silver made in Glasgow

A thistle marks all sterling silver made in Edinburgh

A crowned harp marks all silver made in Dublin

An image of Britannia marks Britannia silver
Silver is not magnetic so you may test it with a magnet. If the magnet sticks, it is not silver or the item has been plated with silver and there is an underlying cheaper metal. Also, you may do a small scratch in an inconspicuous place and place a drop of white vinegar on the scratch. If it changes color, the piece is not silver. 
An interesting side note, its healing properties are thought to contribute to balanced moods, increased energy, and improved circulation.
Collectors Weekly has a wonderful online encyclopedia of hallmarks. Visit
https://www.925-1000.com/index.html
to research your item.
Valuing prints.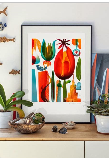 A print is a print is a print, right? Wrong! When considering a purchase of a print or of a painting, there are key aspects to look for that make that print more valuable. Not all prints are reproductions. There are many artists who have limited edition runs of original art that are quite valuable.
Limited edition prints hold more value than mass produced prints. The first clue for a limited edition print is that it will have what appears to be a fraction in the bottom corner that is referred to as the print run number. The top number or numerator represents the number this print is in the run and the denominator or bottom number represents the total number of prints in the run. For example, 332/500 means that this print is number 332 out of a total 500 produced. Some prints will have small runs of several hundred, while others may have runs into the thousands. The smaller the print run (denominator), the more exclusive and valuable the print as a whole, and the lower the number in the run (numerator), the higher the price as it is considered a first impression. 
A print that has a second signature by the artist in pencil is two or more times valuable than one without the original signature. This pencil signature says that the artist has personally reviewed and approved the quality of the print. 
What if your print does not have a number, but has strange markings such as T/P, A/P, P/P, H/C or B.A.T.? These markings are references to the printing process and can add value to the print.
Artists are very hands-on during the printmaking process. Oftentimes as trial proofs are pulled from the press, the artist will make changes to the color or composition before finalizing the plate for the run. Trial proofs are rarely the same as the final product. Once the artist is satisfied with the print, a final plate is prepared from which to print and it is called a B.A.T., short for "bon à tirer,"
a French term meaning "ready for printing."
A print marked A/P  means it is the artist's proof, or one of the first prints to be pulled off the new plate specifically for the artist to review and approve.  An artist's proof is considered more valuable than a numbered limited edition print as the artist's hands were on the print.
The term EA refers to a process whereby the artist personally proofed an entire run of limited edition prints, and not just the artist's proof. These prints hold greater value because of the hands-on nature of the artist.
In the initial phases of a run, the publisher was often gifted with a print by the artist marked P/P for printer's proof.  Prints marked H/C for hors de commerce, a French term meaning "not for sale" were separate from the limited edition run and were often given to galleries for use in promoting exhibits. The printer's proof and H/C were often sold and are considered rare and valuable.
When you find a print that is numbered and pencil signed and want to know more, Google search the artist. This writer has had great success in reaching family members who maintain archives and can provide more information about the print and the artist.
Valuing Murano Glass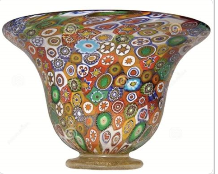 If you love the artful beauty of blown glass, you will be enchanted with the spectacular design variations of authentic Murano glass. Some say it is the perfect marriage of skilled craftsmanship and artistry. 
Murano glass has a rich and storied history, having been first produced in the late 13th Century by highly skilled craftsmen from the small island of Murano not far from Venice, Italy.  It is produced when mineral sands are melted together in a high-temperature furnace at 1200°C to 1400°C until the sands fuse into liquid glass. Once the glass is liquid, the furnace temperature is lowered to allow for the glass to be stirred and rolled while thin layers of real gold or silver leaf, platinum, agate or alexandrite, and color are added to create the design. The artist blows the glass into the desired shape, which can be decorative bowls, vases, goblets, pitchers, lamps, chandeliers, and even statues. It is a laborious process that requires a distinct eye for design and precise skill in working with molten glass.
How do you authenticate Murano glass? 
Because Murano glass is made by hand, there will be variations in the design, meaning no two items are identical. There will be slight imperfections such as air bubbles as well as a pontil mark on the bottom (you can feel where the piece was detached from the rod). On the other hand, machine made pieces of glass will be perfectly symmetrical and identical.

A true Murano piece is made by a precise method of layering the colored glass and clear glass. Some glass makers from other countries use lead in making glass to eliminate bubbles. Because lead is forbidden in making Murano glass, the crystal will not be one hundred percent clear of bubbles.

The colors in Murano glass will be vibrant and distinct and the shape of a form such as a flower or fish will be crisp and not blurred.

Most Murano glass has a sticker identifying the maker or has a Certificate of Origin or Certificate of Authenticity. Oftentimes Murano glass is signed on the base by the maker. If you find a signature, you can Google the artist's name to verify his/her connection to Murano, Italy. Items marked "Made in Italy" or "Made in Venice" are not authentic Murano glass.

The precious metals and minerals added to the molten glass add to the value of an authentic Murano piece, therefore the price points will be higher than other blown glass pieces.

A piece of fake Murano glass will have bleeding or clouded colors and misshapen designs; it will lack a preciseness.
An authentic vintage Murano Millefori lamp retails for $3,500 while mid-century vases are selling in the range of $250-$800. As a new collector, you will find many items at affordable price points as you build your collection.
Every mid-century modern enthusiast should have a vintage ball or starburst clock on the wall.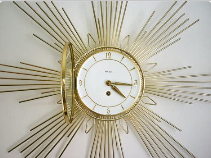 I say that not because you will finally be able to teach your kids how to read time "the old fashioned way," but you will discover the joy in owning a clock that is a true piece of art. 
One of the most recognizable trademarks of the mid-century modern movement is the iconic ball clock designed by George Nelson for the Howard Miller Clock Company. George Nelson was born in 1908, and at the time of his death in 1986, he was hailed as one of the founding fathers of American Modernism and the person who invented the concept of the "family room." 
George's background in architecture and fine arts initially inspired his career in interior design. While traveling through Europe, he fell in love with the modernism movement and shortly after returning to the United States and in 1945,  he became Howard Miller's design director. In 1947, he gathered some of the most celebrated designers of the time, including Irving Harper, Don Ervin and Charles Pollock, who developed more than 150 clock designs from the 1950s to 1980s. 
In designing clocks, George and his team determined that most people read a clock by the relative position of its hands, and deemed numerals unnecessary. He also believed that with the rise in wristwatches, clocks were interior design statement pieces and not necessarily utilitarian.
George is credited with designing the first Howard Miller Model #4755 in 1948, most famously known as the "Ball clock," which he said was designed as a result of a night of drinking with friends and associates. A George Nelson designed Howard Miller ball clock features a brass face and hand carved wood balls to indicate the hour. An authentic design will have the company name on the clock face or engraved on the back. In 1964, the ball clock retailed for $30. Today, an authentic version in excellent condition retails for $1,750 to $3,000.
In 1949, following the success of the ball clock, the Howard Miller Model #2202, known as the "Starburst clock" was released. The clock was produced in an array of colorful metals and wood in a starburst pattern.  In 1964 it retailed for $30. Today, this clock retails for $1,600 to $2,800.
Another popular design was Model #2261 known as the "Sunflower clock" designed in 1958. This clock features various types of wood and metal in the shape of a sunflower. This clock retails for $1,000 for birch and $2,000 for brass.
While the holy grail of mid-century modern clocks is a George Nelson design, there were many companies that produced fun and beautiful works of art such as United Electric, Elgin, Seth Thomas, Sunbeam, Sessions, New Haven, Welby, and Lux.
Let's talk Ironstone!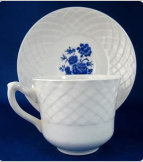 Collectors of White Ironstone are drawn to its creamy white color, beautiful luster, and wide variety of items from bowls to pitchers and soap dishes that provide a foundation for a welcoming decor. 
White ironstone was developed in 1813 by brothers Charles and George Mason at their Manufactory in Fenton, Staffordshire, England. The brothers patented a process for a durable, porous, glaze-covered heavy earthenware that led the way for the first white Ironstone china to be marketed in America in 1842. By 1870, there were several North American companies producing Ironstone. It was named for its strength and does not contain iron ore.
Early designs were simple, with geometric panels and lines. By the mid-to-late 1800s, body styles with embossed designs such as grains and flowers were introduced and marketed to the agriculture community. The heft of the pottery was desirable for farmers who had to feed large numbers of people who helped with a harvest and this pottery could take heavy use. For that reason, it became known as "thrashers ware."
Into the 20th century, the designers returned to their roots, with simpler styling and a lighter weight.  Collectors are familiar with the names assigned to designs and shapes such as Wheat and Hops, Paneled Grapes, President's Shape, New York Shape, and Ceres Shape, to name a few. Early examples of Ironstone are marked on the bottom with a black stamp or embossed maker's mark. In the 19th century, Ironstone produced in England had a diamond mark on the underside to indicate the date of registration and materials used. However, with more than 200 manufacturers of Ironstone, there are many examples that are unmarked.
American makers of Ironstone include Homer Laughlin, Knowels, Taylor & Knowels, William Young & Sons, Red Cliff, and W.A. Lewis.  The more recognizable names of English Ironstone include Mason's Patent Ironstone, Wedgewood, J. & G. Meakin, Spode, Turner & Tomkinson, Wood & Sons, Johnson Brothers, and George Jones and Sons.
To identify Ironstone, the weight of the piece is the first clue as it will be heavier than china. Older Ironstone from England will have a blue-gray undertone while American Ironstone will have a creamier yellowish undertone from shades of white to beige. (There was a blue and white Ironstone produced called Flow Blue as well as transfer patterns.) The glaze will have a soft luster or gentle sheen and if you flick the piece, it will have a bell-like ring. (Keep in mind that cracks may alter this sound.) Authentic Ironstone is opaque, meaning if  you hold it up to the light, you cannot see through the piece. Many of the older examples will be marked "Ironstone." If you see "Victoria Ware" or "Iron Ware," that is typically a fake as no such thing existed. The words "Flow Blue" are also an indication of a fake as Flow Blue is a style and was never marked as such.
Older pieces may have crazing, or little cracks in the glaze, but that does not deter collectors. If there is discoloration under the crazing, which is common due to use, oftentimes it can be cleaned by placing the item in hydrogen peroxide for a couple of days, drying with a towel, and then setting it in strong direct sunlight to dry. Rust stains can be cleaned with ZUD or Barkeepers Friend. Never use bleach on your Ironstone.
Is my vintage waterfall furniture valuable?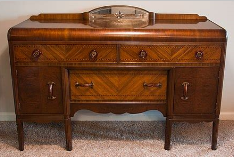 Waterfall furniture is known for its gracefully rounded wood edges on horizontal surfaces that appear to drop like a waterfall. Its elaborate wood grain patterns and unique drawer pulls combine to create a distinctive look that remains popular today.
Waterfall is a child of the Art Deco period, as it was born in the 1930s and 1940s and was inspired by the modernist movement in France, Austria, and Germany.  Its popularity swelled after the Great Depression when newlywed couples often had little money and occupied a bedroom in their parents' home. This mass produced furniture was very affordable due to its construction and was the style of choice for the couple's first purchase. Waterfall furniture is known for being the first style to be constructed without a frame and instead is strengthened by molded plywood and designed with thin layers of wood veneer overlaid to create elaborate wood grain patterns called crossbanding and bookmatching. Waterfall furniture was primarily produced for the bedroom, but there are beautiful examples of living room furniture such as bar cabinets, credenzas, and desks.
As the Great Depression ended and the economy recovered, families were again able to afford solid wood furniture and waterfall sales declined. However, it remains a sought after style by many who love the simplicity of its design, gorgeous wood grain patterns, and sensuous curves.
What should you look for in a vintage waterfall dresser? Carefully check the structure and veneer. The molded plywood is susceptible to heat and humidity. Over time, the veneer may come loose or it may be warped due to water damage. Loose veneer can easily be repaired while warped veneer generally needs to be replaced. The design pattern is important as well-made and more expensive pieces will have carefully matched grain patterns with unusual designs. The original pulls are likely made from Bakelite (the first synthetic plastic that is sought after by collectors) or brass and will have a unique design flair.
When new, a set with a bed, vanity, nightstand, and dresser may have sold for $20 to $40. Today, complete bedroom sets are rare finds, with only one partial set noted for sale in the Chattanooga region for $450. Online, tall boy dressers retail for $850 to $1,800 and an original waterfall vanity in pristine condition retails for $1,000 to $1,500. In the Chattanooga region, waterfall vanities are listed from $200 to $450 in varying conditions.  
French Provincial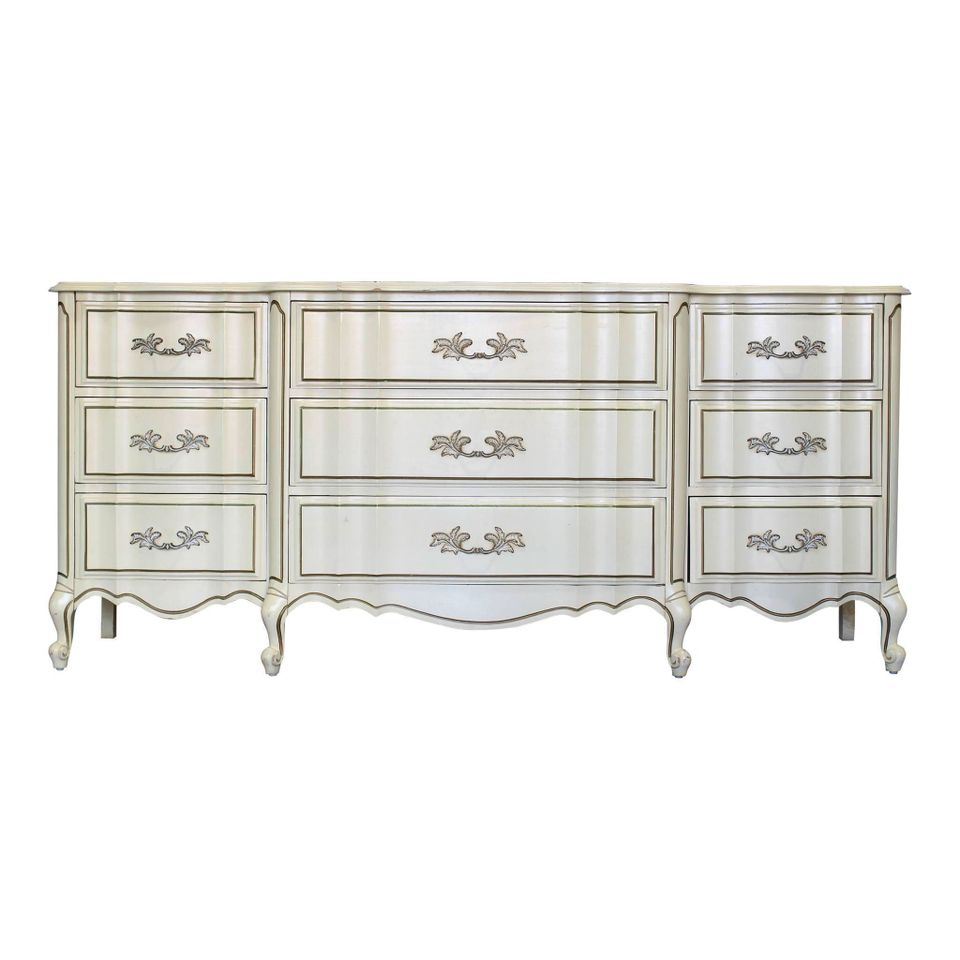 Is French Provincial Furniture valuable? Of late, this question has appeared on numerous sites for furniture and antiques. One theory is that the height of popularity of French Provincial first occurred in 1920 when soldiers returned from the war and wanted to craft the beautiful designs they were inspired by while overseas. The American rendition closely mirrors French Country. Many of these treasures are now being passed down to a new generation that has fond memories of their grandmother's feminine and romantic bedroom decor.

French Provincial originated in the provinces of France in the 1700s to 1800s. The furniture has an iconic design that is instantly recognizable for its sinuous curves, graceful serpentine drawers, cabriole legs, elegant brass hardware embellished with a foliage design, and neutral tones such as white, beige and cream, often with a generous application of gold trim.

To determine the value of a French Provincial bedroom set, look for these important clues: High end pieces will be constructed of a solid wood such as Cherry and Maple. The tops will often have marble or be of solid wood, the drawers will be dovetailed, and the hardware will be made of solid brass. (To test for brass, use a magnet. A magnet will not stick to brass.) Pieces made by the mid-market manufacturers may have a solid or pressed wood case and drawers, but the top usually has a pressed wood or laminate. The hardware is a mixed metal and not solid brass. At the low end market, plastic is present in the drawers, embellishments, and legs, and particle board for the case.

Look for the manufacturer's name. This is often located on the inside of a drawer or stamped on the back. (It may be on the back of the mirror.) High end manufacturers of French Provincial furniture include Drexel Home Furnishings, Henredon Home Furnishings, Thomasville, Century, Ethan Allen, Deutsch Brothers, Permacraft, and Widdicomb Home Furnishings (later purchased by Stickley) Permacraft and Widdicomb furniture was generally made of solid Cherry, while Ethan Allen used Birch and Maple. The value of a Drexel 9-drawer dresser is $600 to $2,100 while a Widdicomb Cherry 12-drawer dresser is $5,000 to $7,000.

Furniture made for the mid-market include Dixie, Broyhill, Stanley, and Basset. The value of a 9-drawer dresser in the mid-market brands is $1,200 to $2,900.
Finally, Sears & Roebuck and Montgomery Ward & Company produced French Provincial furniture for the low end market in the 1960s through 1980s. These dressers are often found for $150 to $180. These pieces were generally made with pressed wood, laminate tops, mixed metal hardware, and molded plastic legs. They make great projects for DIY refinishing.
"It takes a licking and keeps on ticking."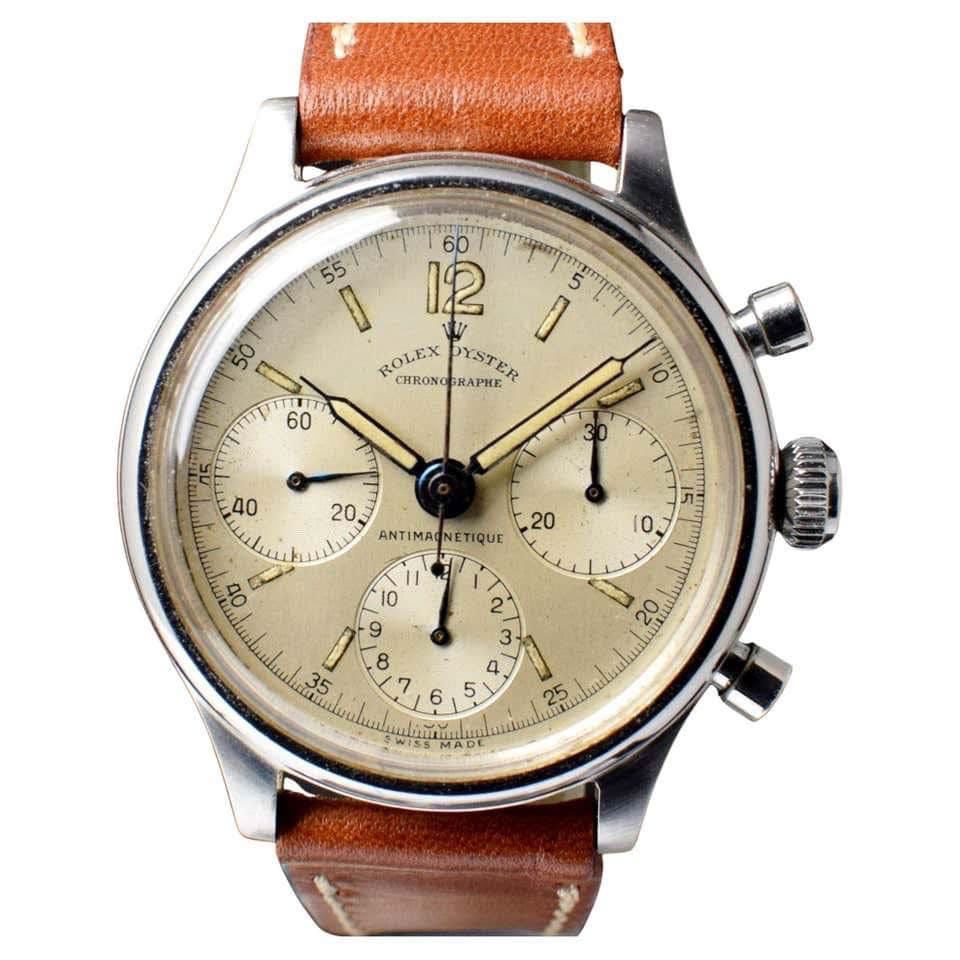 If you remember this iconic slogan, you might be a vintage watch enthusiast. The Timex brand was born in 1941 when Thomas Olsen purchased the Waterbury Clock Company and renamed it Timex. To increase demand for its watches, Timex produced a series of live "torture tests" narrated by John Cameron Swayze featuring high-divers, sky divers, dishwashers, jackhammers and more designed to demonstrate the product's durability and shock resistance. The campaign was wildly successful and by 1962, one of every three watches sold in the United States was a Timex.

That's why when perusing vintage shops or estate sales, you will frequently come across Timex watches. Although this clever marketing technique did a phenomenal job of selling the product, Timex never fully captured the hearts of vintage watch collectors and, with a few exceptions, a vintage Timex can be had for $100-$250.
In spite of the craze for high-tech smart watches, the demand for classic vintage timepieces has grown exponentially in recent years. According to a report by McKinsey and Company, the pre-owned watch market is set to become the industry's fastest growing segment, reaching $29 to $32 billion in sales by 2025. In this writer's personal opinion, there is nothing more satisfying than winding a Swiss movement watch with 21 jewels and tracking its graceful movements as it keeps perfect time. A carefully curated vintage watch collection is a financial investment much like an art or fine wine collection.

What should you look for in vintage watches? To be considered "vintage," a watch must be 25 to 30 years or older. Antique watches are at least 100 years old. The value of a watch is dependent upon its condition, rarity, and provenance or who owned it previously. Provenance has risen in importance as collectors crave the story the watch could tell if it could talk. Famous celebrities, high-profile politicians, war heroes, race car drivers, authors and even watches worn by people who accomplished a "first" are sold at a premium. The Wall Street Journal tells of a 1968 Omega Speedmaster that sold at auction for $667,800 because it was discovered to have been worn by author Ralph Ellison.

In consideration of condition, look for watches that have their original factory parts. That may mean the original dial will have some imperfections from aging, but it should not have been relumed (painted). Some dials may have tropicalization or a change in color due to sun exposure, but make sure it is not water damage. A dial may also be crazed or have small cracks in the lacquer, which does not detract from the value. It is okay if the crystal has some scratches, but a replacement crystal does not diminish the value. Look for a case that has not been overpolished to the point of changing the shape of the case or shaving off important brand marks. Oftentimes the bracelet or band has been replaced. For replacements, it is best if the bracelet matches the brand of the watch. An incorrect bracelet will detract from the value.

Finally, the most sought after vintage watch brands include Rolex, Omega, Cartier, Bulova, Tag Heuer, and Breitling.
Antique, Retro, Classic or Vintage? What's the difference?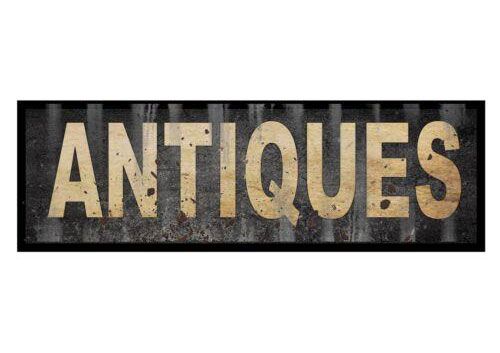 Browsing through antique and vintage stores and finding the perfect piece of furniture or collectible for your home is a lot of fun and it is what makes your home uniquely you. Today we are seeing a host of terms being used to describe items such as "antique," "retro," "classic" and, what seems to be a catchall when someone does not know the age, "vintage." Did you know there are industry guidelines for describing a piece of furniture, collectible, or decor item based on its age? Here's a quick and easy guideline to follow.

Antique? An item has to be 100 years old to be considered an antique. That means, a piece of furniture or an object such as a piece of pottery must have been made by 1922 or earlier to be considered an antique. So those iconic roaring 20s art deco pieces are now considered antiques.
Vintage? To be considered vintage, an item must be at least 50 years old. Some of us who were in high school in the 70s can pull out those old bell bottoms (today they are called flares) as they are officially "vintage" (and worth a lot of money, by the way). An item that was made between 1972 and 1922 is "vintage."

Retro? An item has to be at least 20 years old and not yet 40 to be considered "retro." An item that was made between 1982 and 2002 is "retro." Remember those funky glasses we all wore to Y2K parties the year we thought the internet and all our computers would crash at Midnight? Definitely retro. The term "vintage retro" is also used to describe items that are new, yet made to look like a specific era, such as replicas of bangle bracelets from the 80s.

Classic? This term has a different meanings. For the Antique Automobile Club of America, a car is considered "classic" if it is older than 25 years but not yet 45. For collectibles, "classic" is not necessarily tied to an age but a quality. If the item is considered of timeless quality, first in its class, or an outstanding example, it is referred to as "classic." A fine piece of literature such as Hamlet would be considered "classic."

Just as time marches on and we age, so do the collectibles we love. What is vintage today may be antique in a few years. Our advice? Buy what you love and make your home a reflection of your taste and style.
Mirror, mirror on the wall, are antique mirrors valuable at all?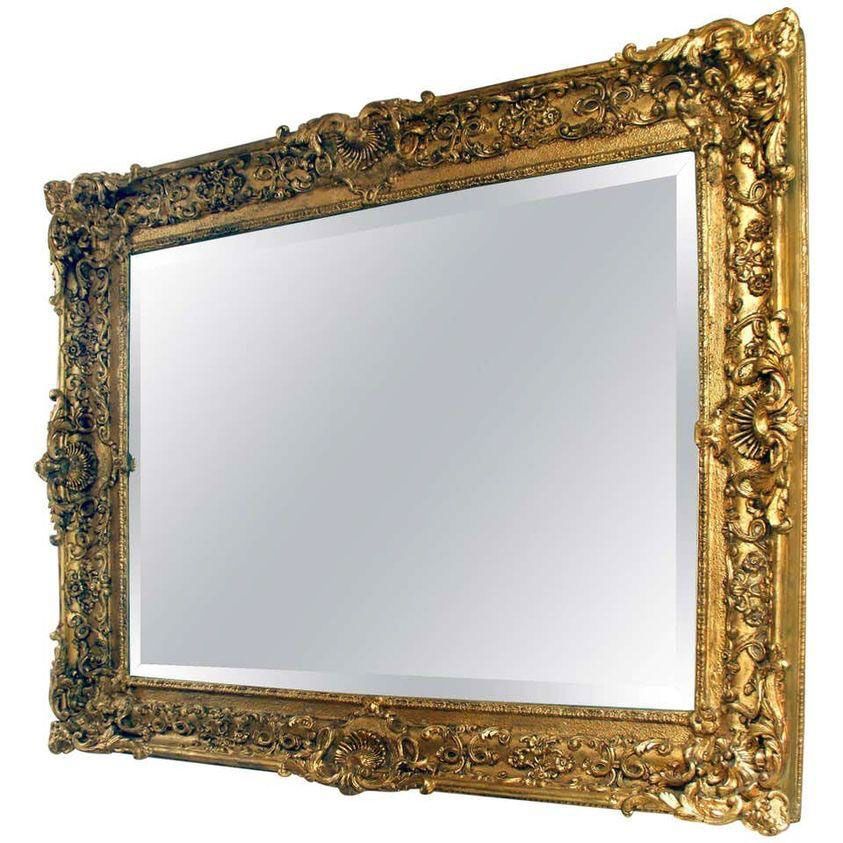 Credit the reduce, reuse and recycle Millennial generation for a resurgence in interest in antique and vintage mirrors.
There were 92 million Millennials who were born between 1981 and 1996 (ages 41 to 26), and they are hitting their stride in their careers. This group postponed buying homes about seven years later than prior generations, and in the last two years we've seen them enter the home buying market in droves. This self-expressive group craves a home that is personal, intimate, and is meant to be well-lived. They look for statement pieces to maximize the minimalist look and what's on the wall is important.

What to look for in antique mirrors? The most valuable mirrors are in pristine condition with no cracks or oxidation; the mirror frame is real wood, ivory, silver, or tortoiseshell; and the backing is often made of real wood. The wood frame may be ornamental with gold gilding, but a true antique will not have a plastic frame. Look closely at the finish of the wood. Finishes were applied by hand, so the finish will not be uniform. The edges may be beveled, which means the edges are cut at an angle. Many mirrors were lost to breakage, so a mint condition antique mirror is a rarity.

From the 16th Century until 1835, mirrors were made with a mercury backing; up until 1940 manufacturers used silver and then transitioned to aluminum as a backing. Over time, oxidization of mercury and silver causes the backing to break down and you may see some tiny black spots or yellowing inside the glass. The glass may have some bubbles or appear wavy. (That's one trick to spot antique glass as it will have a wavy appearance when you look at it from the side.)

How to tell if a mirror is old? Mirrors made before 1850 have glass that reflects a yellow or gray color, while mirrors made after that have thinner glass that reflects white. Aluminum backed mirrors reflect true white. One trick dealers use is to place a white index card against the glass and see if the reflection and the card match. Inspect the frame carefully for manufacturer's marks; and for those attached to dressers, you may remove the backing and often the date made is on the back of the mirror.

What can I expect to spend on an antique or vintage mirror? A simple oak or mahogany framed wall mirror can be found for $89 to $200. Mirrors dating to the 1800s are priced upwards of $10,000 to $20,000.